EpicNPC Verified
Verified Upgrade
Members who have verified their identity with us.
EpicMember Premium Upgrade
Upgraded member with 20+ positive feedbacks.
Hi my name is pitewronggaming i'm a member of playerauction since 2014 my review on playerauction is overall great
i'm not saying they are a perfect site or whatsoever (there's no such thing!)
my only concerns is their Direction
over the years i did some gold selling - account leveling on different games but now i mostly focus on powerleveling
as a newbie or low feedback player i was struggling as a powerleveler not because it's hard,but first before you become a power leveler you need to have a power leveling deposit per account service you are doing
that means as long as you have an active order you cannot take another sell order unless you have another powerleveling deposit.​
that means you need to have at least 2 - 3 powerleveling deposit to take orders simultaneously​
now let's come to the real problem:
if you are a low feedback member it's normal that your sell order post will be on the last ( rank from highest to lowest feedback ) which is okay since higher feedback seller work really hard to gain that feedback
currency: the mechanics in currency is every game there is a different feedback
let's look at archeage unchain currency
xavrus has total feedback of 12,025
applegold has a total feedback of 24,982
haidi1408 has a total feedback of 356,101
yezige has a total feedback of 42,562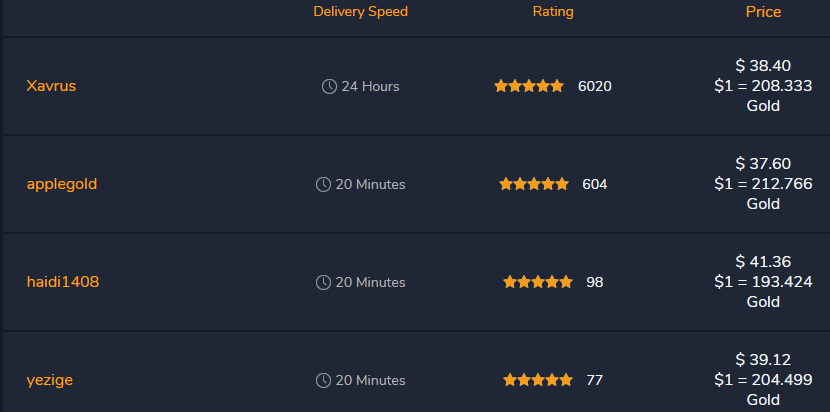 take note
xavrus
which has the
lowest feedback
of them all was on top why? because he is active mostly on archeage unchain currency
this mechanics is great since you can compete with other seller the battle field is even for every one, as long as your active on this section you can be on top
but that's not the case on powerleveling section:
example:
SELLER A
has a 100 feedback on powerleveling in archeage unchained
SELLER B
has 50 feedback on
currency
, 40 feedback on
other games
and 11 feedback on
item selling
0 feedback on powerleveling
Seller B
will be on top page of powerleveling total of 20 post he can do in which the case
powerleveling feedback is hard to earn unlike currency even PA has a $70 deposit when doing 1 powerleveling sell order. currency deposit requirements: none
my solution before was to purchase a
featured seller
benefits of a featured seller: you will be on top search even if you have a lower feedback for me it cost around $5 daily for featured seller on osrs limit of 3 sell order only
even if you are on the second or third thread your first 3 sell order will always be on top.
you feel like your are truly featured on that section since you will be advertise (worth every $)
i purchase my featured sell order 2 months ago and now it's activated, but when i check the featured seller status i saw that you are only featured on the
first page only
if you browse on second or third page, you are
not featured anymore
i am not asking for a special treatment or anything but if we as a powerleveler can have a same feedback mechanics as the currency
i love and support playeracution whatever their decision on the
future
, but please consider to give a bit
love
on power leveler
@PlayerAuctions
from a random dude, pitewronggaming
thanks!
Last edited: