Rating: 0%
Member Since November 20, 2021
Total Feedback: 0
Unique Feedback: 0
220/30/69 Advy (Legacy Apprentice PvP title! which is unobtainable anymore)
214 Doc
212 Keeper
190 Engi
183 Fixer
174 Twink agent (BS twink)
150 Twink NT (For selling heckler power levels in ely)
60 Twink MP (Can solo ToTW and can cast 200 pet with wrangle/moch and is only 25% OE after wrangle fades)
Gungslinger is working on the 10th line and Apotheosis is fresh, all things are maxed of that are of importance for this build and gunslinger if needed to go ranged is almost complete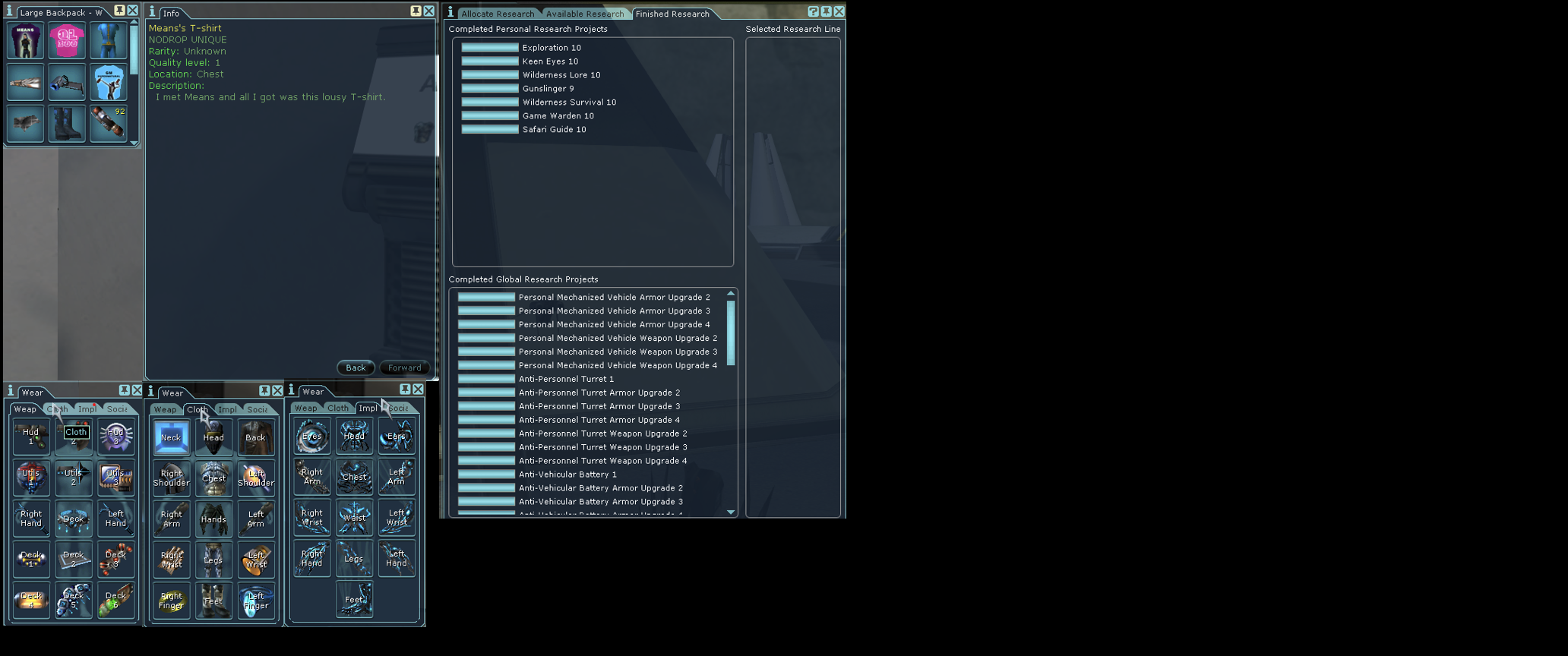 MAIN ACCOUNT INFO!
220 Advy old-school completely endgame melee advy (Legacy Apprentice PvP title that has been since removed from the game to obtain), I Was considered at the time to be one of the 3 best melee advys on RK2, Equipment is as follows, I never title farmed, that was held during 1000's of Battlestations/Mass Tower battles
30k+ Aliens killed
14.5k+ VP, account was made in 2003! (This is said later in the post but will say it up here, everything needed to put alpha's on are in the bags/banks)
ACDC
Dreadloch Stab Guidance System
Research Attunement Device - Offense Level Three
Boon of Aries
Stellar Adventurer Nanodeck
QL 250 Dust Brigade Grunt Module
2x QL 300 Hatred of the Xan's
Xans Viral Belt
QL 250 Infused Morphing Memory
Capricorn's Reliable memory for BM/NR
QL 300 Memory NCU 6/6
Protected Safegaurded NCU Memory Unit for Evades/AAD
QL 300 Spirit Infused Yuttos NCU for Crit resist
QL 300 Infused Viral Compiler for Nano init + NR+ND
Xan token board - Xan Combat Examplar
QL 300 Combined mercs full set with Gannondorf's Combined Commando Headwear
Superior Icy Shoulderpads of Explosive Power
Imbued Globe of clarity - For AAO and AAD + CI
RW - Perfected infused Dust Brigade Bracer
LW - Masterpiece Ancient Bracer
QL 300 Jayde's Odyssey ring
QL 300 Band of Bravery
Implants -
Xan Ocular Symbiant, Support Unit Alpha
Xan Brain Symbiant, Support Unit Alpha
Xan Ear Symbiant, Support Unit Alpha
Intelligent Right Arm Symbiant, Infantry Unit Aban
Xan Chest Sybiant, Infantry Unit Alpha
Xan Left Arm Symbiant, Infantry Unit Alpha
Xan Right Wrist Symbiant, Infantry Unit Alpha
Xan Waist Symbiant, Infantry Unit Alpha
Xan Left Wrist Symbiant, Infantry Unit Alpha
Xan Right Hand Symbiant, Infantry Unit Alpha
Xan Thigh Symbiant, Infantry Unit Alpha
Xan Left Hand Symbiant, Artillery Unit Alpha
Xan Feet Symbiant Infantry Unit Alpha
(Everything is Alpha, and is sorted for Support/Infantry/Artillery, for the best min/max combos for AAR/AAD/NR etc, the Intel Rarm was the highest infantry Rarm possible in 2014 when done)
Important Stuff -
Inner Sanctum Knowledge
Dust Bride Security Codes
QL 300 Comm Relay
Pure Novictum Ring for the Support Unit
The Key to the Garden of Thrak
The Key to the Garden of Roch
The Key to the Garden of Shere
The Key to the Garden of Dalja
The Key to the Garden of Vanya
The Key to the Garden of Lord Mordeth
The Key to Lord Mordeth's Sanctuary
The Key to Vanya's Sanctuary
The Key to Roch's Sanctuary
Metawater Repllent Spiritech Suit
Rubi-Ka Recall Beacon
Shadowlands Recall Beacon
Decrypted Kyr'Ozch Data Core
DB security Pass
Xan Defense/Offense Examplar
Transmographic Dimension Shifter
Explorers Signet of the Apocalypse (And all other rings needed)
Items worth noting -
QL 250 Dust Brigade Barrier Module
QL 250 Dust Brigade Assault Module
Explosif's Polychromatic Pillows
Research Attunement Device - Offense Level Three
Research Attunement Device - Nano Tech Level Three
Research Attunement Device - CombatLevel Three
Research Attunement Device - Defence Level Three
Research Attunement Device - Medical Level Three
Helment of Hypocrisy
Might of the Revenant (MoTR)
QL 300 Band of Bravery
QL 200 Longshot
QL 35 Senio Omni Intern-op Coat
Shoulder plates of Sabotage
Manex Adventuring Protection System - Over Armour (Black Variant)
boots of stolen comet speed
old school QL200 Cyber armor set pieces
Dust Brigade Bracer - Third Edition
Cancer's Silver Boots of the Autodidact
QL 300 Chosen Advy armor in bags for nostalgia/transmog
QL 200 Ring of Presence
QL 277 Viral Targeting Subunit
QL 167 Bracer of Striking Force
QL 244 Bracer of killing Intent
QL 250 Endorphin Factory
QL 200 Sturdy Detention Boots
lots of Enhanced Safegaurded NCU units, str/sta and int/psy and agility/senes etc!
Candy Shoulderpads
Big Snowball
Winter Costume
Play Costume - Holiday Series #3
Play Costume - Third Edition
Zingy Scarf
Box with a pumpkinhead
Ancient Positron Collider
The Raymond Richards III Trophy
Xan's Red Belt of Triple Power
QL 200 Biomech Cloak
QL 247 Ring of Computing
QL 200 Enhanced Dust Brigade Boots
QL 200 Dust Brigade Covering
QL 200 Dust Brigad Sleeves
QL 300 Endorphin Factory (I have factory's of almost every TL range)
QL 200 Ring of Plausability
QL 200 Expirmental Cyborg Token Board
Infused Ancient Defender
Enhanced DB Spirit-tech Chestpiece
QL 300 Reflex Pistol
QL 1 Second-Hand Old English Trading Co.
Galahad Inc T70 Beyers, a lot of QL43+
Carb Holster
Ring of powers
Nelly's little black dress
Omnifiers
Even some gold ingots before they got removed/nerfed
Alien Aug devices
Lots of Arul Saba's
OAFTA
Light Distance Weapon's guides
A lot of low and high Biomat
IS rings
2x Gelids
Chosen/T2/T1
Taurus Spirit Shield of Patience
Quick Draw Holster of Aries
Hellfury Assault Cannon
Hellspinner Shock Cannon
Skeleton Costume
Smelly Butcher Gloves
Boots of Concourse
Not Really the Eye of Neleb
Sacrificial Ensigns of Cerubin
Lot's of Anillo Casero de la Cripta's
Tentacle Thongs
Spiritech Medical Analyzer
QL 300 Ofab Mongoose MK6's
A Neverending Being of light
Cloak of the Reanimated Gladiator 5/5
QL 249 MBC
ALL of the action figures for each class
QL 231 Power of the Mind
Bracer of growing flesh
Barrow Strength!
SHIRTS WORTH MENTIONING, SOME OF THESE ARE PRICELESS AND MAKE THE ACCOUNT WORTH THE PURCHASE ALONE!
Developer Means's T-shirt! - This was very rare and he only gave it out when he came in the game on extremely rare occasions, I'd say no more than 30 people have this shirt.
GM Supernatural's T-shirt
GM Sezmra's T-shirt
GM Michizure's T-shirt
LIMITED EDITON GSP T-SHIRT - Description:
This is a 'limited edition' official GridStream Productions T-shirt released on Rubi-Ka in 29480.
Heckler Shirt's
E.P.E.E.N Shirt
FROOB shirt
My Shirt is QL 300
Lots of other cosmetics from all the events From the early days until about 2014, same with vehicles
There is SO much more to this account, I'd be spending 3 weeks listing every good item on this account, This account has been through 1000s of tower battles, tara raids, beast raids when the original beastnet was around, it once had raid leader rights to distribute/award points to beastnet/tara and before instanced playfields were a thing, with mercs, and much much more.
(Everything needed to twink into alpha's are here on the account)
A LOT of QL 1-300 AI weapons, a lot are upgraded.
A LOT of Yalms and other store bought Yalms/Fliers/Sleds
2x QL 200 Freedom Arms 3927 G2's
BAGS and BAGS and BAGS of AI weapons, Symbiants from awakened to alpha's of a lot of types, it's really all too much to list and is extremely overwhelming but if you want it, it's a 99% chance it's here, tons of patterns and old peren weapons and tiig beaters, fighter's manuals etc!
TONS of old clicky fun stuff like placards, TONS of figures and Nano's that aren't made anymore
Xan Right Arm Symbiant, Infantry Unit Beta
Tons of other symbs, novi, twink items from 2003+ onward, at least 400+ too much to list, like nova dillon/kirch/Sekutek/Miy's full sets of all QL ranges from low QL to QL 200
Old Halloween items like pumpkin head bags, treatment pistols, psy pistols, QL 10-200 imps of all types for twinking in all TL ranges.
Some of the great highlights of the account are listed above, and some of the most priceless items you can't get anymore are some of the nano's but most of all some of the old GM/Dev shirts that aren't around anymore, which makes this account even more rare and special since it was made in 2003 and in great standing with these assets, if there's a beast item you can think of it's here.
I hoarded everything on this account, It has everything! Patterns, symbs low and high, implants for all levels of twinking, if it had value or importance of Quality or a Use it's here, it's like bidding on a storage unit that's overstuffed with a lot of everything that's valuable, it's worth the buy and you will thoroughly enjoy the account! thanks for looking!
IMPORTANT NOTE:
This account was affiliated with some of the top guilds on RK2 before the merge and is extremely well known in Inner Circle/Core/TR/Huge/CCI/Paradise/Dark Front and more.
YOU WILL WANT TO PURCHASE A NAME CHANGE!
Last edited: