EpicNPC Moderateur ⭐Trusted Seller⭐
Trusted Upgrade

Trusted usergroup. Verified members for over a year and 50+ positive feedback.
Professional Seller

Large seller, normally with their own website or business.
Verified Upgrade

Members who have verified their identity with us.
EpicMember Premium Upgrade

Upgraded member with 20+ positive feedbacks.
Staff member

Hello,
First time buyer and need trusted service? Simply don't want to waste hundred to thousand of $ hoping to get your favorite Servants?

I'm offering Account Service for Onmyoji with the Characters. If you looking for a specific characters, just send me a Message on Discord, Skype or Epicnpc.
All my accounts are 100% safe as my feedback reflect.



Returned customer will get discount next purchase up to

15%



Contact info at the end of post.


All Account are UNLINKED &

ANDROID, GLOBAL SERVER

. You need to send me either Twitter/ Facebook / Gmail to link the account after payment[SIZE=+1].

Ootengu $30. Irabaki $20 . Others $10[/SIZE]
[SIZE=+1]With over[SIZE=+1] 650+ [/SIZE][/SIZE][SIZE=+1][SIZE=+1]Positive Feedback [/SIZE][/SIZE][SIZE=+1][SIZE=+1]100% [/SIZE][/SIZE][SIZE=+1]without a single

Negative.

[/SIZE][SIZE=+1]Check my Profile


Tier List refernces:
https://onmyojiguide.com/shikigami-list/
http://onmyoji.wikia.com/wiki/User_blog:72e/Duan_no_Shikigami_Rankings

Onmyoji Account[/SIZE]
​
[SIZE=+1][SIZE=+1][SIZE=+1][SIZE=+1][SIZE=+1][SIZE=+1][SIZE=+1][SIZE=+1][SIZE=+1][SIZE=+1][SIZE=+1][SIZE=+1][SIZE=+1][SIZE=+1][SIZE=+1][SIZE=+1][SIZE=+1][SIZE=+1][SIZE=+1][SIZE=+1][SIZE=+1][SIZE=+1]
Best SSR Shinkigami:

Ootengu, Irabaki, Yoto Hime, Shunten Doji



[/SIZE][/SIZE][/SIZE][/SIZE][/SIZE][/SIZE][/SIZE][/SIZE][/SIZE][/SIZE][/SIZE][/SIZE][/SIZE][/SIZE][/SIZE][/SIZE][/SIZE][/SIZE][/SIZE][/SIZE][/SIZE][/SIZE][SIZE=+1][SIZE=+1]

[Android/Steam/GL] HIGH END PVP FOCUS 2 SSR ACcount

Price: $165
Account is only linked to dummy Gmail. You will get full access and not afraid of recalling, stealing back.[/SIZE][/SIZE][SIZE=+1][SIZE=+1]



Level 60

[/SIZE][/SIZE][SIZE=+1][SIZE=+1] Reached

[/SIZE][/SIZE][SIZE=+1]

Almost

[/SIZE][SIZE=+1]

[SIZE=+1]1 mil Coin[/SIZE]

[SIZE=+1] Available

[/SIZE][/SIZE][SIZE=+1][SIZE=+1]

2400 Talisman

[/SIZE][/SIZE][SIZE=+1]

[SIZE=+1] Avaiable[/SIZE]

[/SIZE][SIZE=+1][SIZE=+1]

[/SIZE][/SIZE][SIZE=+1][SIZE=+1]

1000 Jade

[/SIZE][/SIZE][SIZE=+1][SIZE=+1] Available

[/SIZE][/SIZE][SIZE=+1][SIZE=+1]

Double Materials & Soul Bonus x 24 hours

[/SIZE][/SIZE][SIZE=+1][SIZE=+1] Available
[/SIZE][/SIZE][SIZE=+1][SIZE=+1]
[/SIZE][/SIZE][SIZE=+1]

Guaranteed 1000 Jade

[/SIZE][SIZE=+1] each week w/ farming, pvp & More[/SIZE][SIZE=+1][SIZE=+1]



Lots of Soul

+ 15 Available.

[/SIZE][/SIZE][SIZE=+1]Have best PVP SRs and almost many SR to spare for using or trading talismans.[/SIZE][SIZE=+1][SIZE=+1]

[/SIZE][/SIZE][SIZE=+1]

2

[/SIZE][SIZE=+1] x Shinkigami



Irabaki

Skills: 5/1/3



Aoandon



[/SIZE][SIZE=+1]

19

[/SIZE][SIZE=+1] x SR Shinkigami

[/SIZE]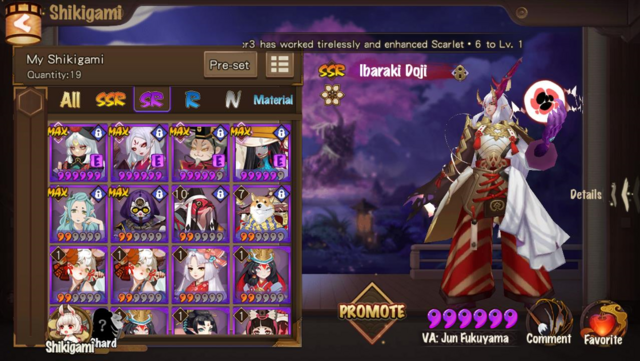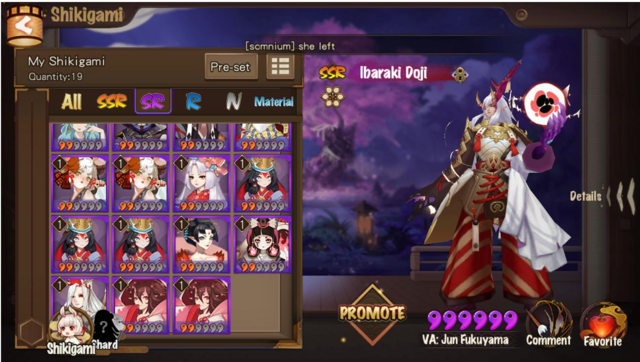 [SIZE=+1]Nore info can see here: [/COLOR][/SIZE][/B]https://www.epic...eam-High-End-2-SSR-3-G6-Pvp-Focus-2-8k-Rating[SIZE=+1]
[/SIZE]______________________
[SIZE=+1][SIZE=+1][SIZE=+1][SIZE=+1][SIZE=+1][SIZE=+1][SIZE=+1][SIZE=+1][SIZE=+1][SIZE=+1][SIZE=+1][SIZE=+1][SIZE=+1][SIZE=+1][SIZE=+1][SIZE=+1][SIZE=+1][SIZE=+1][SIZE=+1][SIZE=+1][SIZE=+1][SIZE=+1]
[/SIZE][/SIZE][/SIZE][/SIZE][/SIZE][/SIZE][/SIZE][/SIZE][/SIZE][/SIZE][/SIZE][/SIZE][/SIZE][/SIZE][/SIZE][/SIZE][/SIZE][/SIZE][/SIZE][/SIZE][/SIZE][/SIZE]


[SIZE=+1]

[Android/Steam/GL] FRESH STARTER SINGLE OOTENGU

Price: $30[/SIZE][SIZE=+1][SIZE=+1][SIZE=+1][SIZE=+1][SIZE=+1][SIZE=+1][SIZE=+1][SIZE=+1][SIZE=+1][SIZE=+1][SIZE=+1][SIZE=+1][SIZE=+1][SIZE=+1][SIZE=+1][SIZE=+1][SIZE=+1][SIZE=+1][SIZE=+1][SIZE=+1][SIZE=+1][SIZE=+1]



1

x 5* Shinkigami:

Ootengu



2

x 4* Shinkigami :

Yasha, Youko



More Info: Only Tutorial & Chapter 1 Done. Best Shinkigami with Best Sr everyone looking for: Ubume & Vampira!

[/SIZE][/SIZE][/SIZE][/SIZE][/SIZE][/SIZE][/SIZE][/SIZE][/SIZE][/SIZE][/SIZE][/SIZE][/SIZE][/SIZE][/SIZE][/SIZE][/SIZE][/SIZE][/SIZE][/SIZE][/SIZE][/SIZE][SIZE=+1][SIZE=+1][SIZE=+1][SIZE=+1][SIZE=+1][SIZE=+1][SIZE=+1][SIZE=+1][SIZE=+1][SIZE=+1][SIZE=+1][SIZE=+1][SIZE=+1][SIZE=+1][SIZE=+1][SIZE=+1][SIZE=+1][SIZE=+1][SIZE=+1][SIZE=+1][SIZE=+1][SIZE=+1]_________________________
[/SIZE][/SIZE][/SIZE][/SIZE][/SIZE][/SIZE][/SIZE][/SIZE][/SIZE][/SIZE][/SIZE][/SIZE][/SIZE][/SIZE][/SIZE][/SIZE][/SIZE][/SIZE][/SIZE][/SIZE][/SIZE][/SIZE][SIZE=+1][SIZE=+1][SIZE=+1][SIZE=+1][SIZE=+1][SIZE=+1][SIZE=+1][SIZE=+1][SIZE=+1][SIZE=+1][SIZE=+1][SIZE=+1][SIZE=+1][SIZE=+1][SIZE=+1][SIZE=+1][SIZE=+1][SIZE=+1][SIZE=+1][SIZE=+1][SIZE=+1][SIZE=+1]

[/SIZE][/SIZE][/SIZE][/SIZE][/SIZE][/SIZE][/SIZE][/SIZE][/SIZE][/SIZE][/SIZE][/SIZE][/SIZE][/SIZE][/SIZE][/SIZE][/SIZE][/SIZE][/SIZE][/SIZE][/SIZE][/SIZE]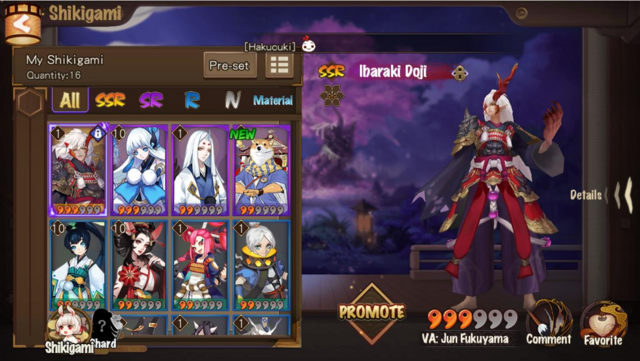 [SIZE=+1]


[Android/Steam/GL] FRESH STARTER SINGLE IRABAKI

Price: $15



1

x 5* Shinkigami:

Irabaki





1

x 4* Shinkigami

More Info: Only Tutorial & Chapter 1 Done.

[/SIZE]
[SIZE=+1][SIZE=+1][SIZE=+1][SIZE=+1][SIZE=+1][SIZE=+1][SIZE=+1][SIZE=+1][SIZE=+1][SIZE=+1][SIZE=+1][SIZE=+1][SIZE=+1][SIZE=+1][SIZE=+1][SIZE=+1][SIZE=+1][SIZE=+1][SIZE=+1][SIZE=+1][SIZE=+1][SIZE=+1]______________________________


[/SIZE][/SIZE][/SIZE][/SIZE][/SIZE][/SIZE][/SIZE][/SIZE][/SIZE][/SIZE][/SIZE][/SIZE][/SIZE][/SIZE][/SIZE][/SIZE][/SIZE][/SIZE][/SIZE][/SIZE][/SIZE][/SIZE]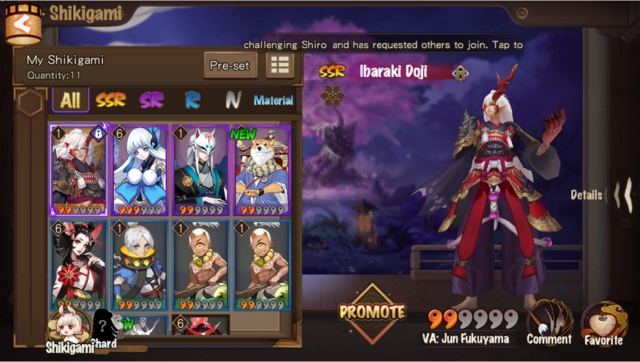 [SIZE=+1]


[Android/GL] Fresh Starter Single Irabaki Doji

Price: $15



1

x 5* Shinkigami:

Irabaki





1

x 4* Shinkigami

[/SIZE]
[SIZE=+1]More Info: Only Tutorial & Chapter 1 Done. [/SIZE]
[SIZE=+1]

[/SIZE]
[SIZE=+1][SIZE=+1][SIZE=+1][SIZE=+1][SIZE=+1][SIZE=+1][SIZE=+1][SIZE=+1][SIZE=+1][SIZE=+1][SIZE=+1][SIZE=+1][SIZE=+1][SIZE=+1][SIZE=+1][SIZE=+1][SIZE=+1][SIZE=+1][SIZE=+1][SIZE=+1][SIZE=+1][SIZE=+1]____________________________-
[/SIZE][/SIZE][/SIZE][/SIZE][/SIZE][/SIZE][/SIZE][/SIZE][/SIZE][/SIZE][/SIZE][/SIZE][/SIZE][/SIZE][/SIZE][/SIZE][/SIZE][/SIZE][/SIZE][/SIZE][/SIZE][/SIZE]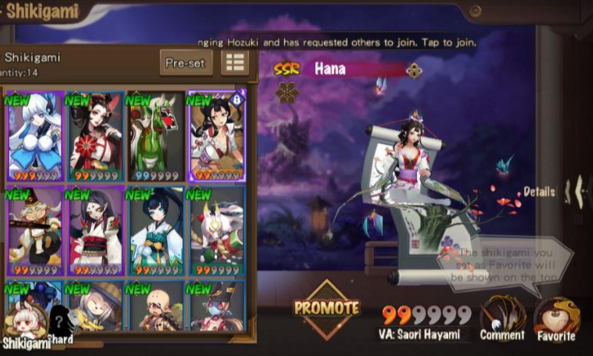 [SIZE=+1][SIZE=+1][SIZE=+1][SIZE=+1][SIZE=+1][SIZE=+1][SIZE=+1][SIZE=+1][SIZE=+1][SIZE=+1][SIZE=+1][SIZE=+1][SIZE=+1][SIZE=+1][SIZE=+1][SIZE=+1][SIZE=+1][SIZE=+1][SIZE=+1][SIZE=+1][SIZE=+1][SIZE=+1]
[/SIZE][/SIZE][/SIZE][/SIZE][/SIZE][/SIZE][/SIZE][/SIZE][/SIZE][/SIZE][/SIZE][/SIZE][/SIZE][/SIZE][/SIZE][/SIZE][/SIZE][/SIZE][/SIZE][/SIZE][/SIZE][/SIZE][SIZE=+1]

[Android/GL] Fresh Starter Single Hana

Price: $15



1

x SSR:

Hana





2

x SR: Vampira: Ebisu, Vampira.

More Info: Only Tutorial & Chapter 1 Done. Best Healer: Hana with one the best Dmg Dealer: Vampira
[/SIZE][SIZE=+1]
[/SIZE][SIZE=+1]___________________[/SIZE][SIZE=+1]
[/SIZE][SIZE=+1][SIZE=+1][SIZE=+1][SIZE=+1][SIZE=+1][SIZE=+1][SIZE=+1][SIZE=+1][SIZE=+1][SIZE=+1][SIZE=+1][SIZE=+1][SIZE=+1][SIZE=+1][SIZE=+1][SIZE=+1][SIZE=+1][SIZE=+1][SIZE=+1][SIZE=+1][SIZE=+1][SIZE=+1][SIZE=+1]
[/SIZE][/SIZE][/SIZE][/SIZE][/SIZE][/SIZE][/SIZE][/SIZE][/SIZE][/SIZE][/SIZE][/SIZE][/SIZE][/SIZE][/SIZE][/SIZE][/SIZE][/SIZE][/SIZE][/SIZE][/SIZE][/SIZE][/SIZE][SIZE=+1][SIZE=+1][SIZE=+1][SIZE=+1][SIZE=+1][SIZE=+1][SIZE=+1][SIZE=+1][SIZE=+1][SIZE=+1][SIZE=+1][SIZE=+1][SIZE=+1][SIZE=+1][SIZE=+1][SIZE=+1][SIZE=+1][SIZE=+1][SIZE=+1][SIZE=+1][SIZE=+1][SIZE=+1]
[/SIZE][/SIZE][/SIZE][/SIZE][/SIZE][/SIZE][/SIZE][/SIZE][/SIZE][/SIZE][/SIZE][/SIZE][/SIZE][/SIZE][/SIZE][/SIZE][/SIZE][/SIZE][/SIZE][/SIZE][/SIZE][/SIZE]
[SIZE=+1][SIZE=+1][SIZE=+1][SIZE=+1][SIZE=+1][SIZE=+1][SIZE=+1][SIZE=+1][SIZE=+1][SIZE=+1][SIZE=+1][SIZE=+1][SIZE=+1][SIZE=+1][SIZE=+1][SIZE=+1][SIZE=+1][SIZE=+1][SIZE=+1][SIZE=+1][SIZE=+1][SIZE=+1]

All Payment via

Paypal.
I WILL NOT ACCEPT ANY KIND OF GIFTCARD. SCAMMER MIGHT WANT GIFTCARDS.[/SIZE][/SIZE][/SIZE][/SIZE][/SIZE][/SIZE][/SIZE][/SIZE][/SIZE][/SIZE][/SIZE][/SIZE][/SIZE][/SIZE][/SIZE][/SIZE][/SIZE][/SIZE][/SIZE][/SIZE][/SIZE][/SIZE]

I will be available almost all the time 18 hours/day from 9 pm - 3 pm EST, 6 pm - 1 pm PST. If you can't get in touch with me instantly on

Skype - live:moseiric

: Discord: SetsunaEpic#6279

, leave me a message on Forum.




Add me on:






Somebody trying to use my name is scam People. Please be Aware. PLEASE MESSAGE ME ON EPICNPC FOR VERIFICATION FIRST. He took the live:setsunaepic and my profile picture to scam.


Skype:

live:moseiric -

SetsunaEpic




Discord: SetsunaEpic#6279

[SIZE=+2][SIZE=+3][SIZE=+3]
Line: setsunaepic

(All lowercase)


Kik: SetsunaEpic[/SIZE][/SIZE][/SIZE]



My real Skype should be live:moseiric .If you see 2 or more SetsunaEpic. Please ask both to verify on Epicnpc Forum. I'm a Trusted Seller. I'm happy to bring Joy to you gaming experience
Last edited: