EpicNPC Verified
Verified Upgrade
Members who have verified their identity with us.
TRAINER IS BACK FOR SALE FOR NORMAL USERS & MESO/DP FARMERS, CONTACT ME.
- After updating the trainer, we are selling single HWID slots for the trainer once again. If you are interested, feel free to contact me through a private message on here.
- If you are a meso/dp farmer looking for 10+ HWIDs, please contact me. We have farming licenses available as well. We are always testing new methods to improve botting efficiency and increase our Farmer's profits.
- Price is $20/month for single HWID. Farmers, please contact me.
Everything you need for botting. Including Auto Monster Park (does Monster Park for you automatically), and a new Legitbot method for staying super under the radar. Make billions while you sleep/work!
===========
===========
To buy, PM me your Discord and I'll add you when I see the message. If you don't know how to PM, reply here saying you are interested and I will PM you my Discord.
DO NOT POST YOUR DISCORD IN A REPLY TO THIS THREAD. Easiest way to have some random scammer add you and say it's me. PM me and send your Discord or ask for my Discord.
===========
Happy Customers:

and many others that wish to remain anonymous. Get your new range and be just as happy as they are today!
===========
DO NOT SHARE YOUR DISCORD HERE IN A REPLY.
Scammers WILL contact you in attempt to scam you. Direct message me your Discord! Click the Mail sign next to my name.
Here is a scammer attempting to sell my **** to someone who posted their Discord in this thread...: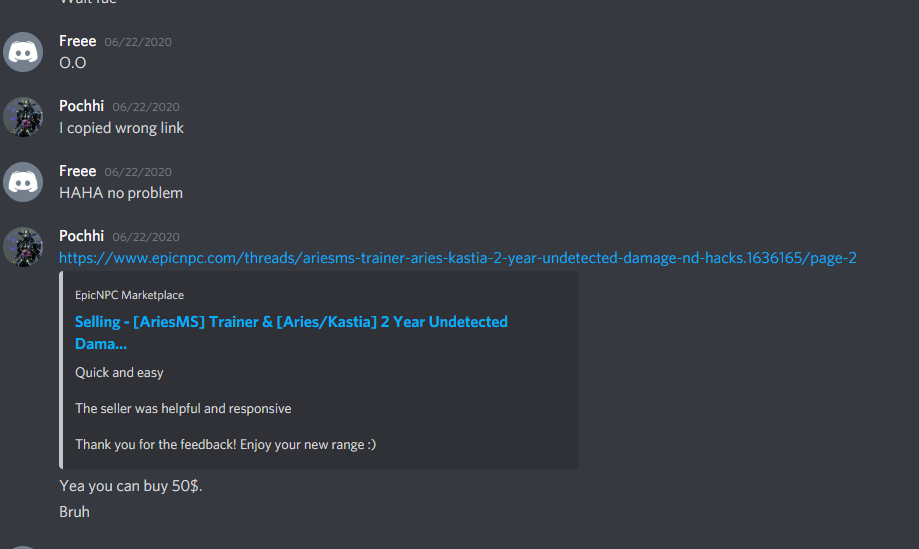 Last edited: