EpicNPC Verified
Verified Upgrade
Members who have verified their identity with us.
Dispute Against

MeisterGrogu
This is the thread:

https://www.epicnpc.com/threads/swgoh-7-7-mio-gm-5-gl-executor-7-stars.2053270/

This is the guy:

https://www.epicnpc.com/members/meistergrogu.1360601/

I sent him some time ago a message on another site to help him to sell his account, but not wanted my help, strange thing, as usually only the scammers not accept my help, specially if are expensive accounts.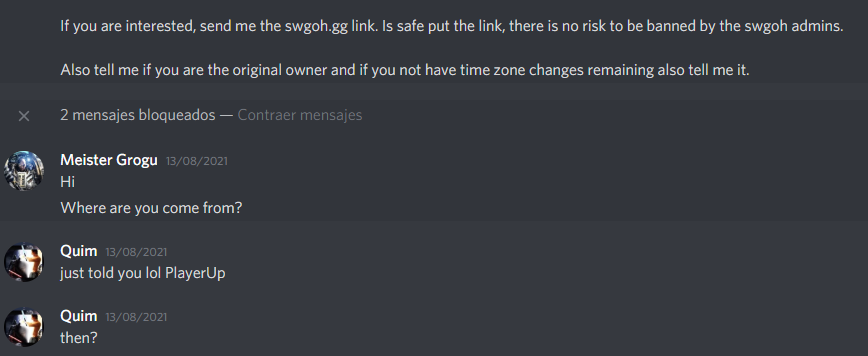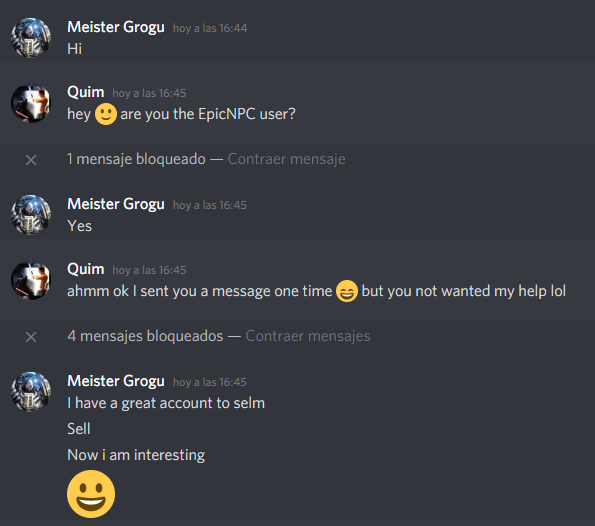 Then is not saying in his post that this account not has time zone changes available, which is a very important thing, as without changes the buyers cannot put the preferred time zone to play the arenas when they can/want, so is not telling the truth.

It seems he bought it few time ago, as not has sense change the time zones 2 times in few days, it seems he changed it 35 days ago. I wanted know when he bought it, if is an account bought 3 years ago probably is a safe transfer, but if is 35 days ago account I need know if he applied the correct method in the transfer to know if is safe help him.

Then says he not wants use a Middleman, typical thing of a scammer, and says 10 days is too long for him, strange thing, as 10 days to get the money, when you recently bought an account with a value of 1000 USD, should not be a problem, I talk with tens of players every day, a lot of them with accounts with a value of 800-1000 USD, and almost all of them not have any problem to wait 10 days to receive the money if is sold by the other site, and specially he should not have problems to accept an EpicNPC middleman as is an instant transfer if is by PayPal for example. This is a typical behaviour of a scammer.

I asked him 4 times when he bought the account. Never got a response, another typical scammer behaviour: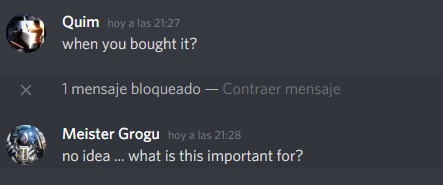 Here says "no idea" LOL very nonsense say he don't know when he bought it.

Also is a strange thing he asked my Discord directly. I ask them usually to be easier the comunication as I have everyone there, but almost never the owners ask my Discord, so probably is because he wants talk about things is not possible talk on EpicNPC, as probably things could be reported and banned.

Some time ago I had a problem with a Russian guy, he bough an account from a guy named Grogu, also from Germany, and he still had access to that account so this guy got scammed. They did the transfer without me, the Russian guy wanted sell me it, but was a scam. Probably is the same person.





There said changed the time zone in 3 days. Nobody does it, not has any sense. And if he does it is because he bought it recently, is changing the payouts because he is learning about it in this new account for him, so not has sense say that he don't know when he bought it. I asked another 2 times, no luck: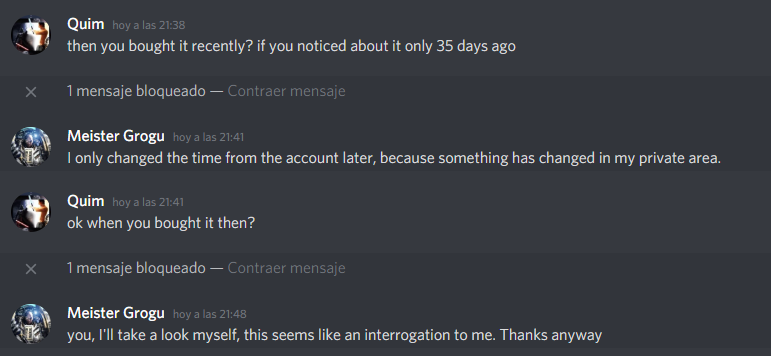 So in my opinion this guy is a scammer, as is not telling the true about the time zone changes remaining in the thread, something which reduces a lot the value and that will harm the buyers if they not notice it not has time zone changes remaining, he bought this account previously but he says don't know when he bought it, he not answers the question, prefers stop to talk instead of say me when he bought it, not wants use a middleman, and I think is the same guy who scammed the Russian guy, as has the same name and same nationality, and is trying a new scam lol

I not have any definitive proof, as usually the proof are when is too late, but it not seems very safe.
Last edited: