EpicMember Premium
EpicMember Premium Upgrade

Upgraded member with 20+ positive feedbacks.
Information
######################
Purchase Date: 20.11.2018
Date the problem begain: 6.12.2018
Method of Contact Used (chat progam): Discord
Instant Messenger username of the person you're accusing: gino#6393
Your Instant Messenger ID: bera336#3650
Other information: <removed> (Paypal)
DISPUTE Information
######################
Link of transaction thread (URL, Epicnpc thread):
https://www.epicnpc.com/threads/close.1387043/
Approximate value of property:
Was Trade Guardian used? No
If yes, what is the Trade Guardian ID?
What is the dispute about? We made a agreement about his character that listed on EpicNPC. But he was transferred his character to a different account in same month so i wasn't be able to secure it fully till transfer cooldown ends at 9.12.2018. So i received his full account to keep til 9.12.2018 for keep secured. After i received account at 20.11.2018, my paypal payer sent him 600 Euro as Friends&Family from my money. So our deal was, after i transfer character away from his account to my customer's account, he would getting second part of payment. That day, i told him so clearly about ''I am risking myself for you, don't play.'' since i couldn't fully secure account till 9.12.2018.
He agreed and i reserved my account for my customer at 14.12.2018. But in that time, my customer had payment issues aswell. So technically i paid first 600 Euro to him from my own pocket. Then my customer slowly started to paying me and he finalized his payment at 5.12.2018 and i informed Vuilegek about i received fully payment and he will be paid at 9th after i took the account like i did many times in the past. Finally yesterday evening i received full amount of money from my customer and i gave account information to him for start playing till 9.12.2018 before transfer. After that i changed my account status as ''Sold'' on EpicNPC.
Today i woke up and my customer told me that he disconnected around noon and not able to login to account. I am surprised since everything was smooth from my side. After i controlled account's mail adress, i seen account got callbacked by real owner which is . I wrote to him and his attitude is changed. Probably he missed his account and tried to find non sense excuses to take it back. He was knew that if he contact with me before doing callback, i would refuse to give it back since it was my property. So he made a silent callback to his account while knowing that i received full amount and delivered account for play to my customer.
I wrote him that i will take that money if he doesnt deliver the account and he responded after couple hours. For all day, his discord was ghost mode but after i caught him on EpicNPC as online, he started to answer my messages. He claims he made callback because he is scared that payment can be taken back (Which is nobody accused me from any kind of callback and payment was Friends&Family), he said i sold account to another person that he doesn't know(i sold my account to same person who reserved at 14 February. Since character was mine in that terms and I can sell it to anyone that i want.), he says that his friend(his fake discord not a friend) came to me for asking price of account, and i told him 1.700 Euro. (which is happened before i received full amount. And i wrote to his fake discord as SOLD after i received full amount)
So like everybody can understand, he was trying to find a excuse to make a callback. I didn't broke the deal, and everybody can see his comment/feedback about our trade aswell. There was not any mistake made by my side. We paid like we promised, we did a deal like i promised. But that person went mad because he couldn't find another account to buy or realized he could get more cash after he asked me price from his fake discord and wanted to callback.
Now he says ''He will make a refund.'' The point is, i sold the account to someone else and he made callback at day 1 while knowing i delivered it to my customer. Account was technically mine and under my possession. His refund isn't enough to cover my sale amount. I want him to deliver account back like he promised or getting banned because of scamming. Because i didn't broke the deal in any case.
I can give price to anyone i want, i can sell account to anyone i want, i can do with account anything i want. After deal is made, it is my account and nobody cannot say anything about my account.
Other details / notes:
Proof
######################
You
MUST
provide proof or your claim will not be valid!
Chat Log Screenshots (make sure username is visible, not display username): Basically the idea is, he comes and asks me price for his account via fake discord. I gave him a price as 1.700 Euro before my customer made full payment to me. But i am not aware of that by the way. So he showed that picture as i was trying to sell to someone else. But issue is, he cut the picture's last part that i wrote to him ''It is Sold''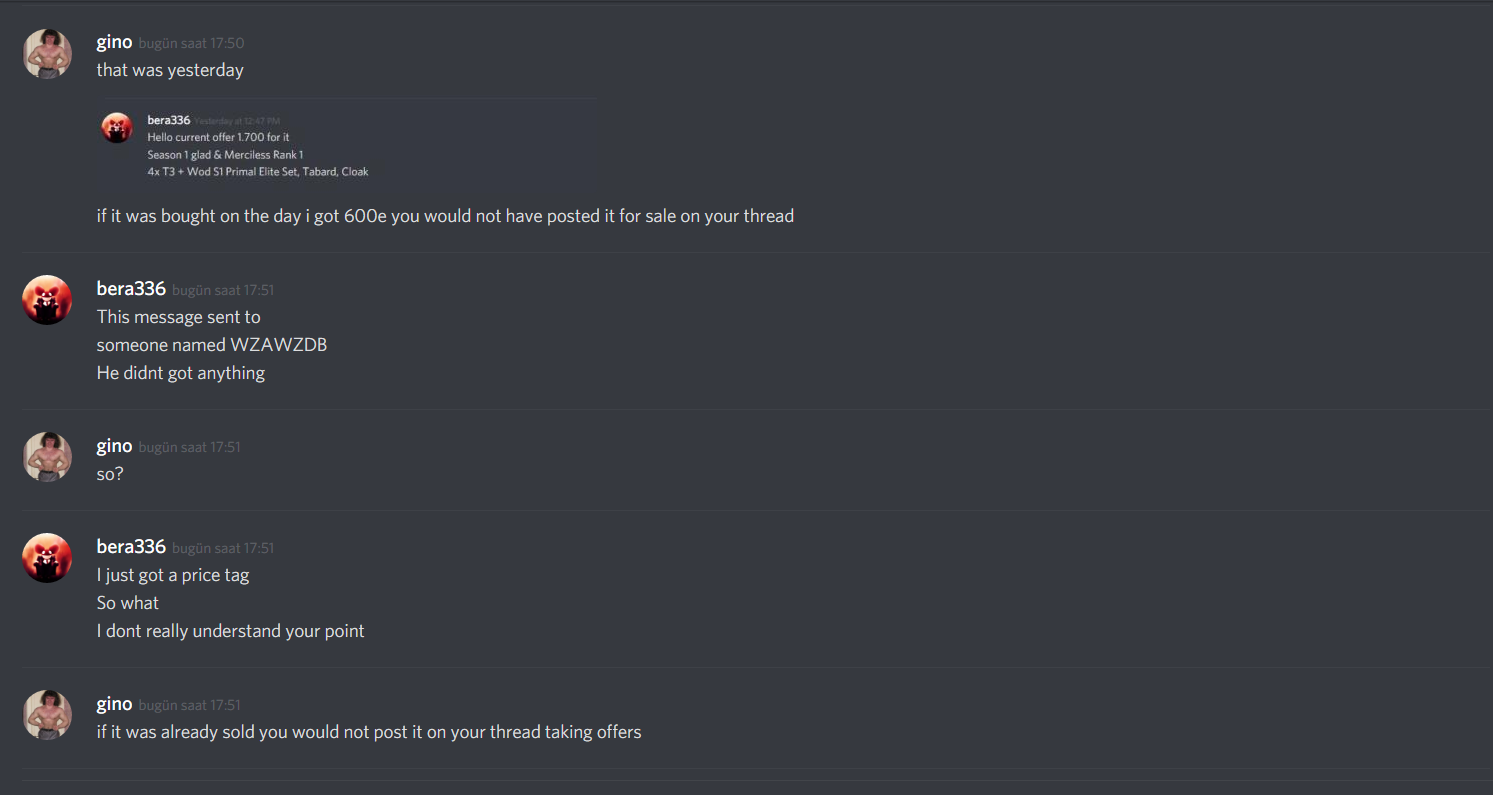 Here is the full picture that clearly shows, i told to his fake discord that account is sold immediately after i took the money without knowing it was him.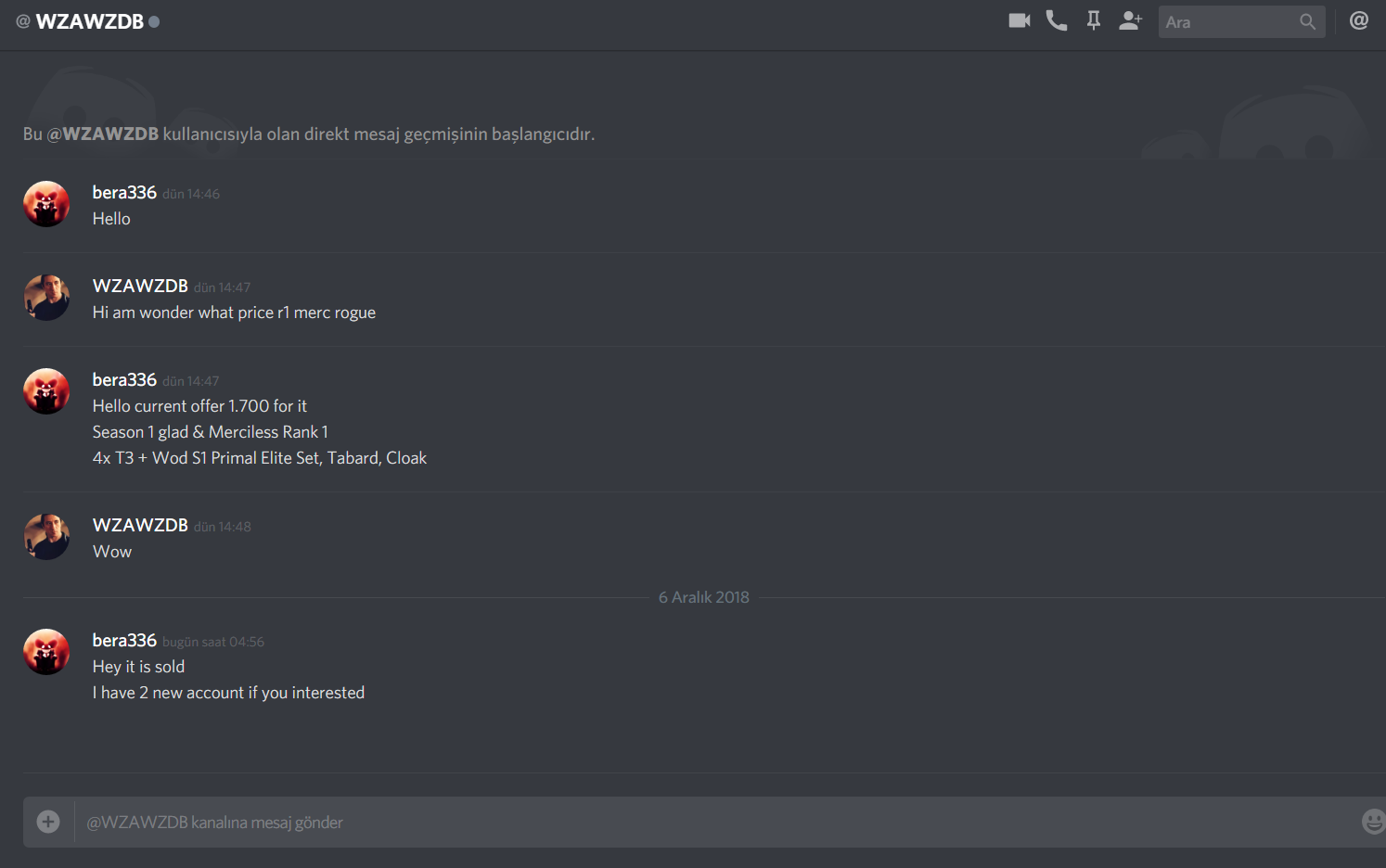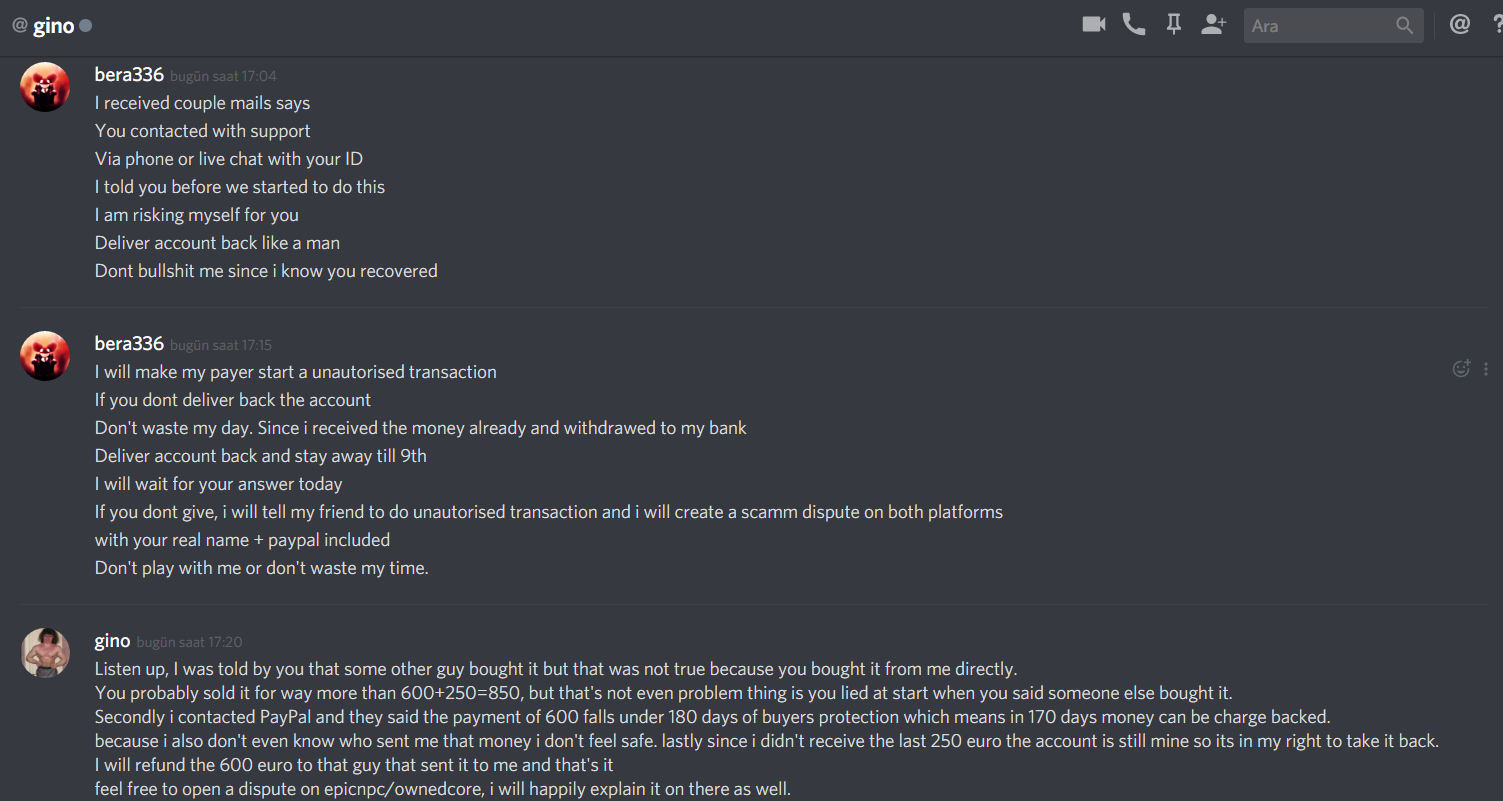 So basically like everybody can see, he was so sad for selling his character, even he was creating fake discord adresses to stalk me about pricing etc. And after he learned i delivered account to my customer, he made immediate callback with non sense excuses without even informing or telling me about anything. And he claims i am running a shady business after that callback as a reason. I didn't even delivered to my customer after first payment is done, because i didn't wanted to risk it since this person has no reputation at all. So i kept the account for some time under my possession without any issue but at night i sent him a message about i delivered account to my customer, he made instant callback when it went out from under my possesion. Maybe he though i was going to blame my customer since right now name+secret answer+password reset can be made easily on blizzard's new website. I am thinking probably. Also character transfer must be happened at 30.11.2018 after he created his WTS topic so he was knew if one customer comes up, he wouldn't be able to transfer it till 9.12.2018 for sure.
Also i have even proof for his non sense excuse about selling to another person. Which is totally lie and wrong. Clearly he even ruining my image on people's mind. I want character back for deliver to my customer. Rest, won't cover the damage. Here is my customer and me talking at 14 November and on other picture, it clearly shows he purchased the account while it got callbacked.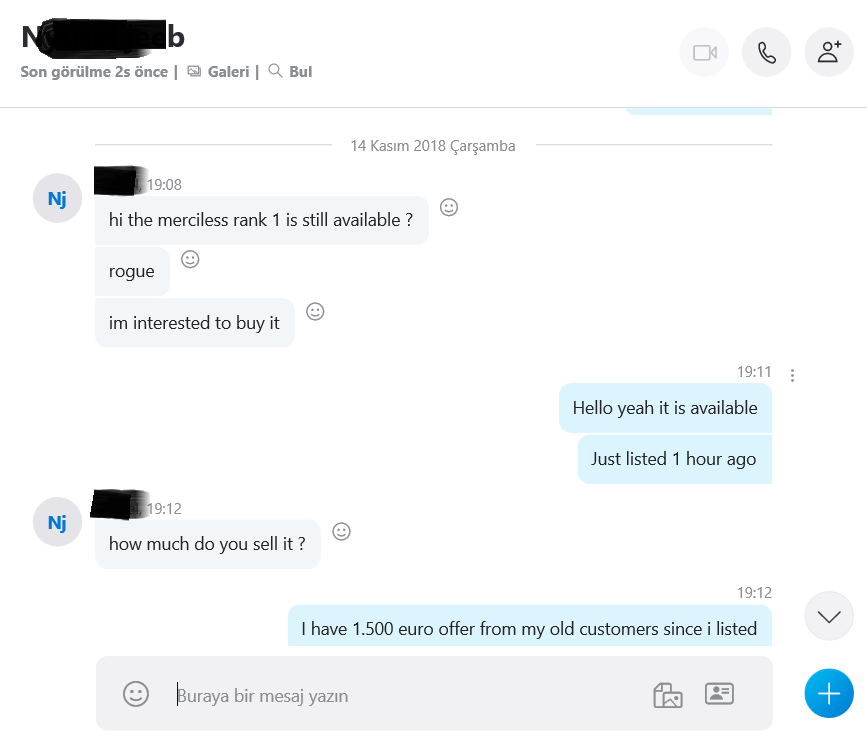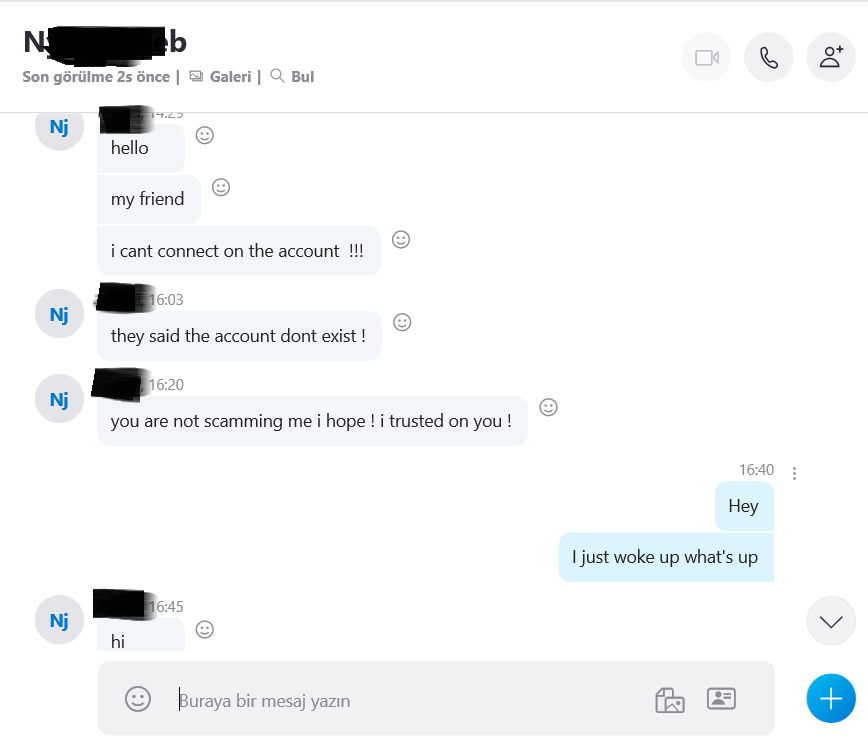 Payment Screenshots (make sure the accused email is visible):
Other proof:
Account Recalls
######################
Most account recalls have little proof. To get more evidence, please open a support ticket to attempt to recover the account BEFORE opening a dispute thread.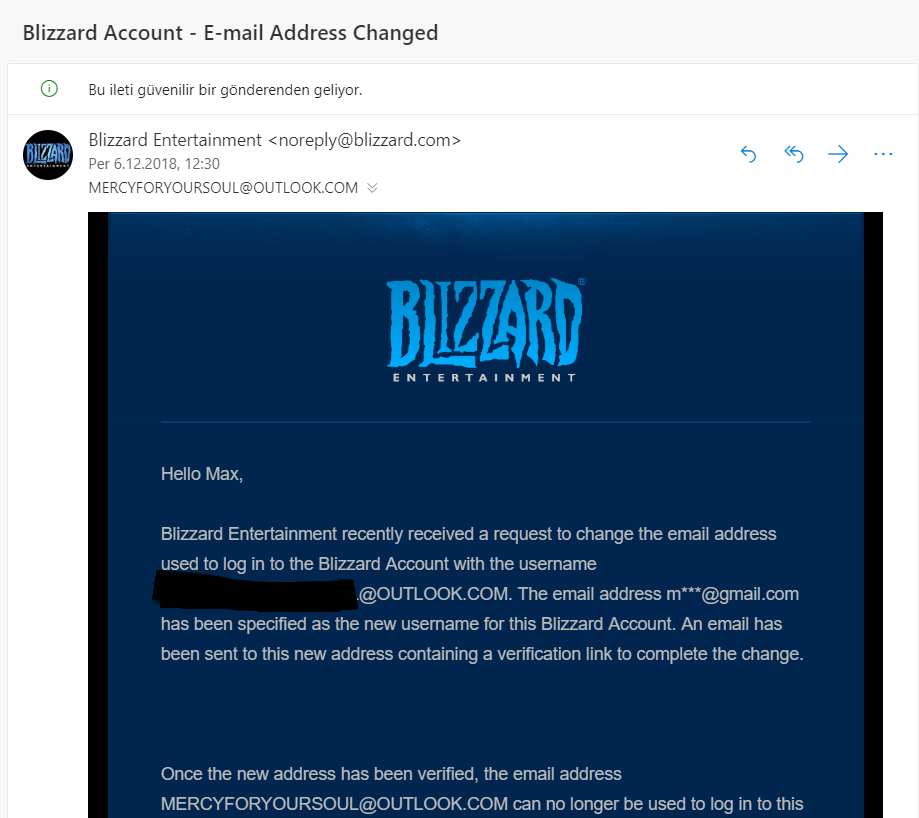 Did the seller say he's the original owner? (provide proof) Yes. Account's name and name on the ID were matching as '' ''
What account information did the seller provide you at the time of sale? (ID, SQA, etc) I received ID, SQA and login information.
How long did you have the account before it was recalled? 20.11.2018 to 5.12.2018
If you have a support ticket about this recall, please post screenshots of it.
(you can use the HIDE tag so the images are not publicly available to everyone)
Last edited by a moderator: