Information
######################
Purchase Date: Dec 28th 2021
Date the problem began: Dec 30th 2021
Method of Contact Used (chat program): Discord/Epicnpc
Instant Messenger username of the person you're accusing: xkross228#2633 / Trade.NPC#4948
Your Instant Messenger ID: Discord- zy#1598
Other information:
DISPUTE Information
######################
Link of transaction thread (URL, Epicnpc thread):
https://www.epicnpc.com/threads/ape...-150-legendary-detailed-descriptions.2128979/
Approximate value of property: $95 USD
Was Trade Guardian used? Yes
If yes, what is the Trade Guardian ID?
ARMIK
What is the dispute about?
Seller sold me an Apex legends account which i used for 2 days only to find out the account had been pulled back by him
Seller created a backup epicnpc account to sell the same account he pulled back.
Other details / notes:
Proof
######################
You MUST provide proof or your claim will not be valid!
Chat Log Screenshots (make sure username is visible, not display username):
Hecz23's discord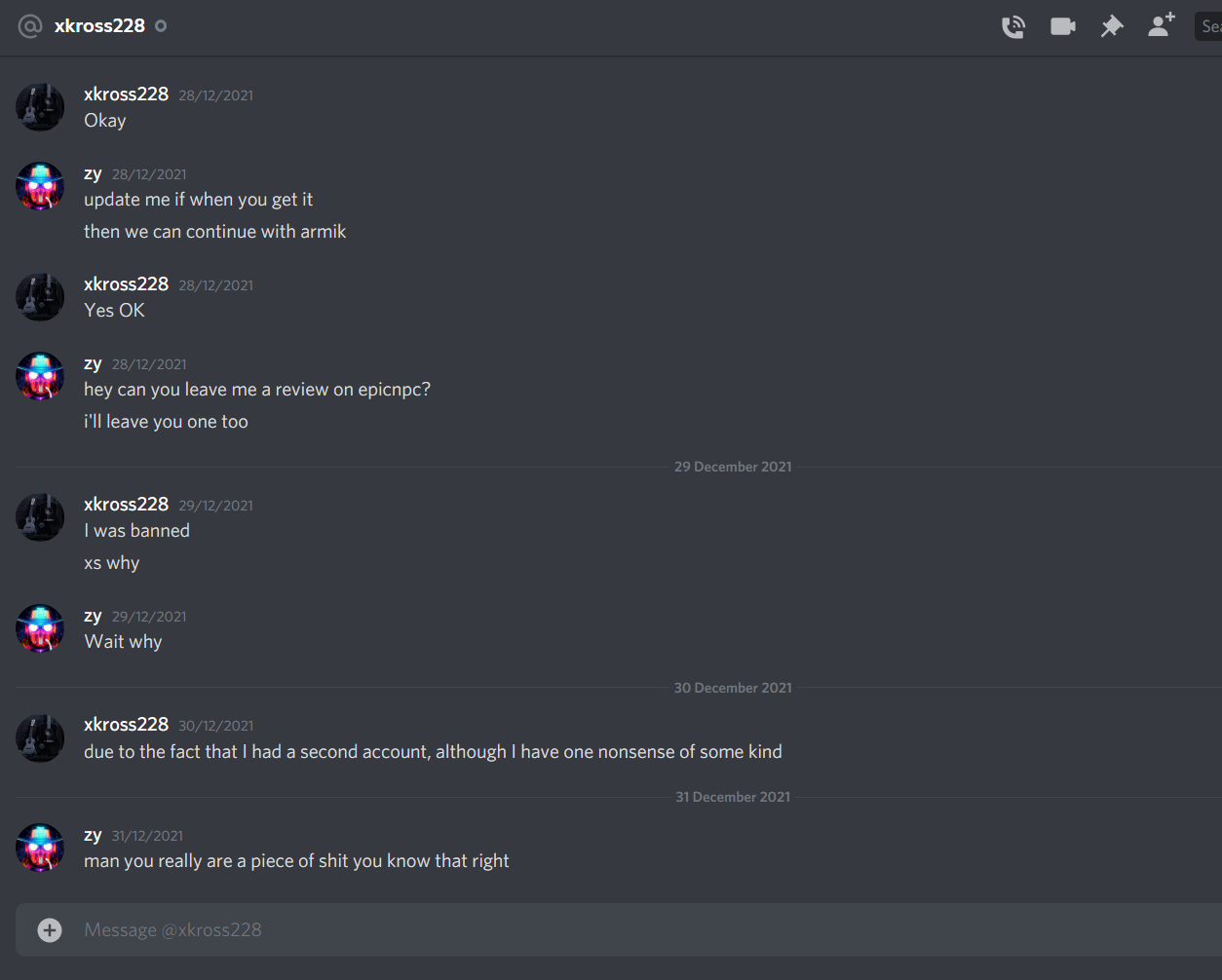 Some of you know that making another account on epicnpc gets you banned. So why make another account?
Payment Screenshots (make sure the accused email is visible): I paid through crypto but have his address if that counts
0xede3c152cf08a101851b5d7668f78567d94d6227 his ltc address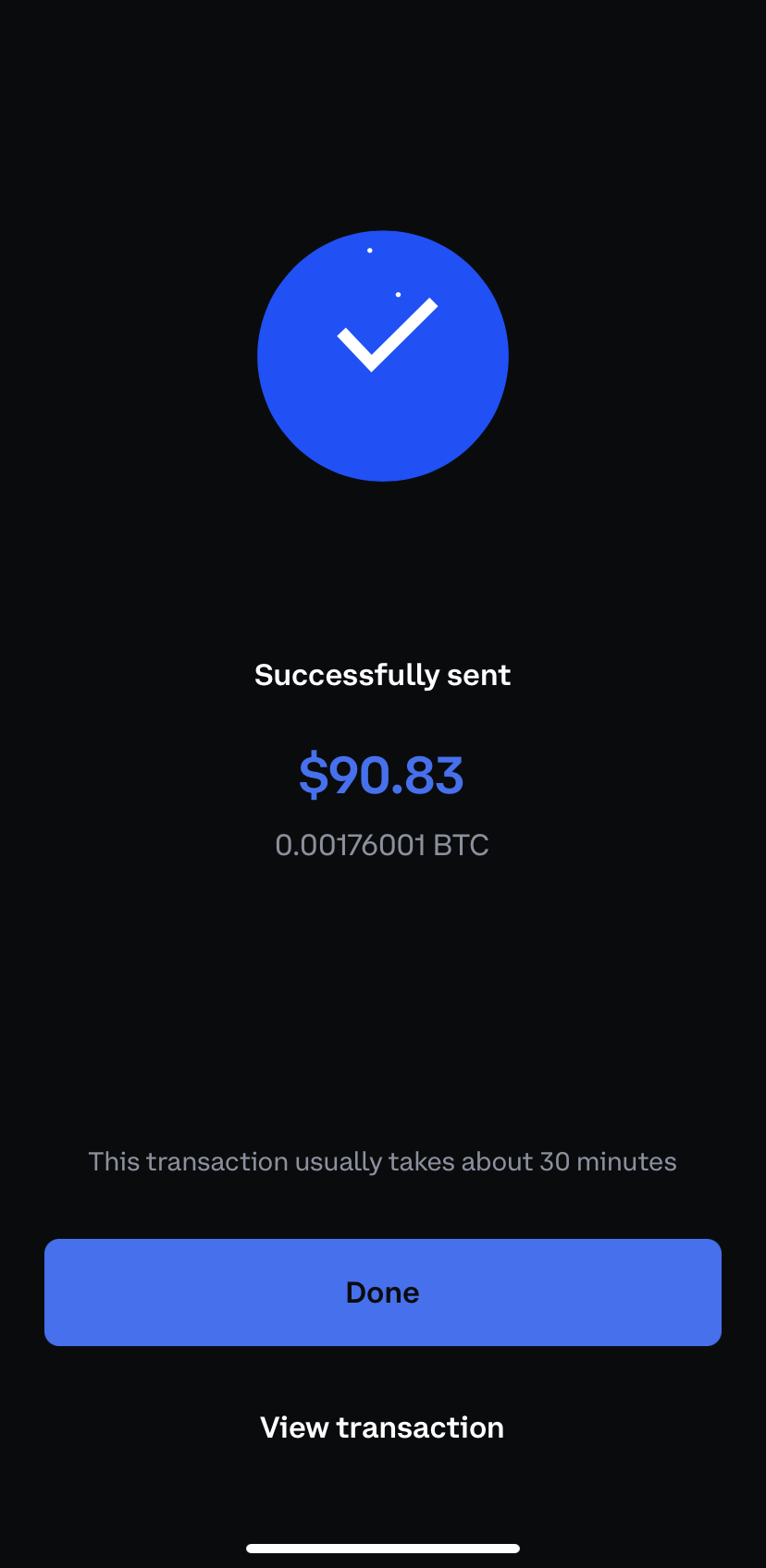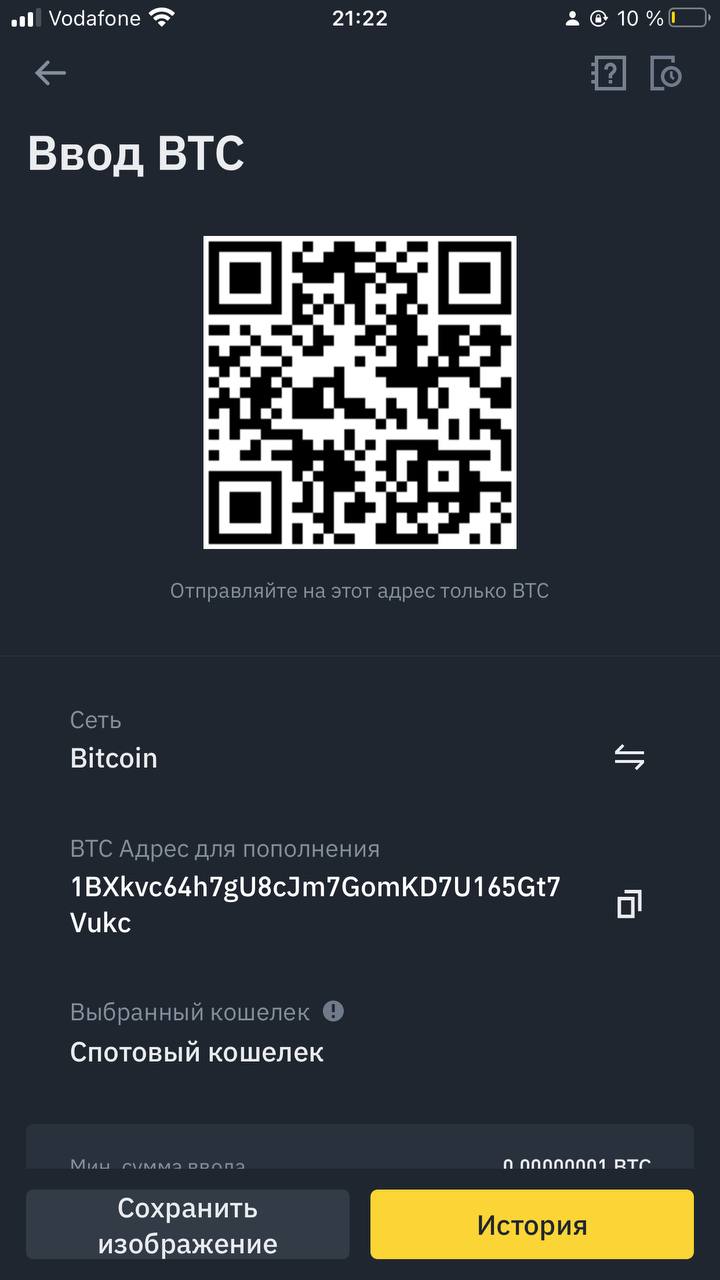 Other proof: I went undercover under another discord username to check whether "gutard" is the same guy that sold me the Apex account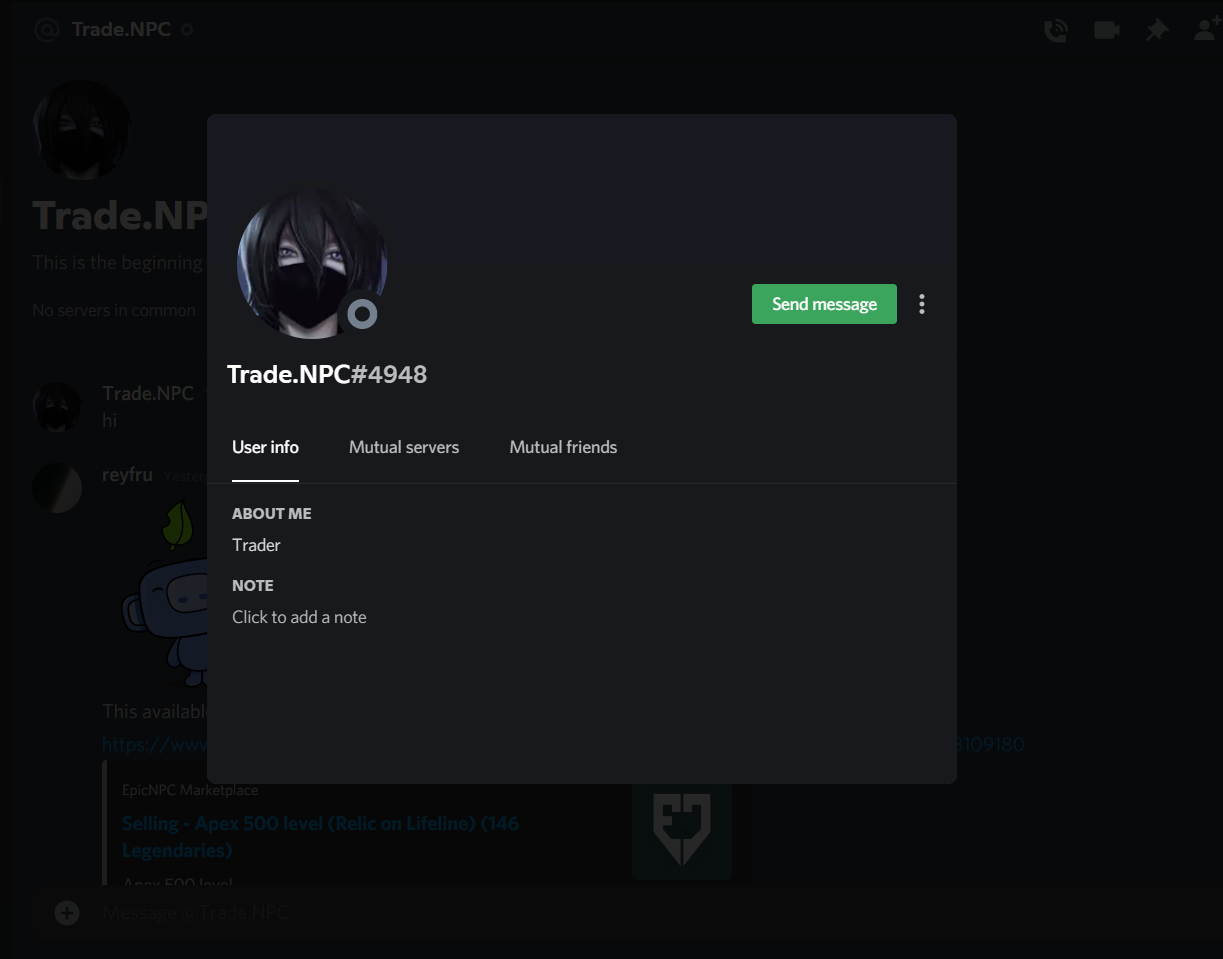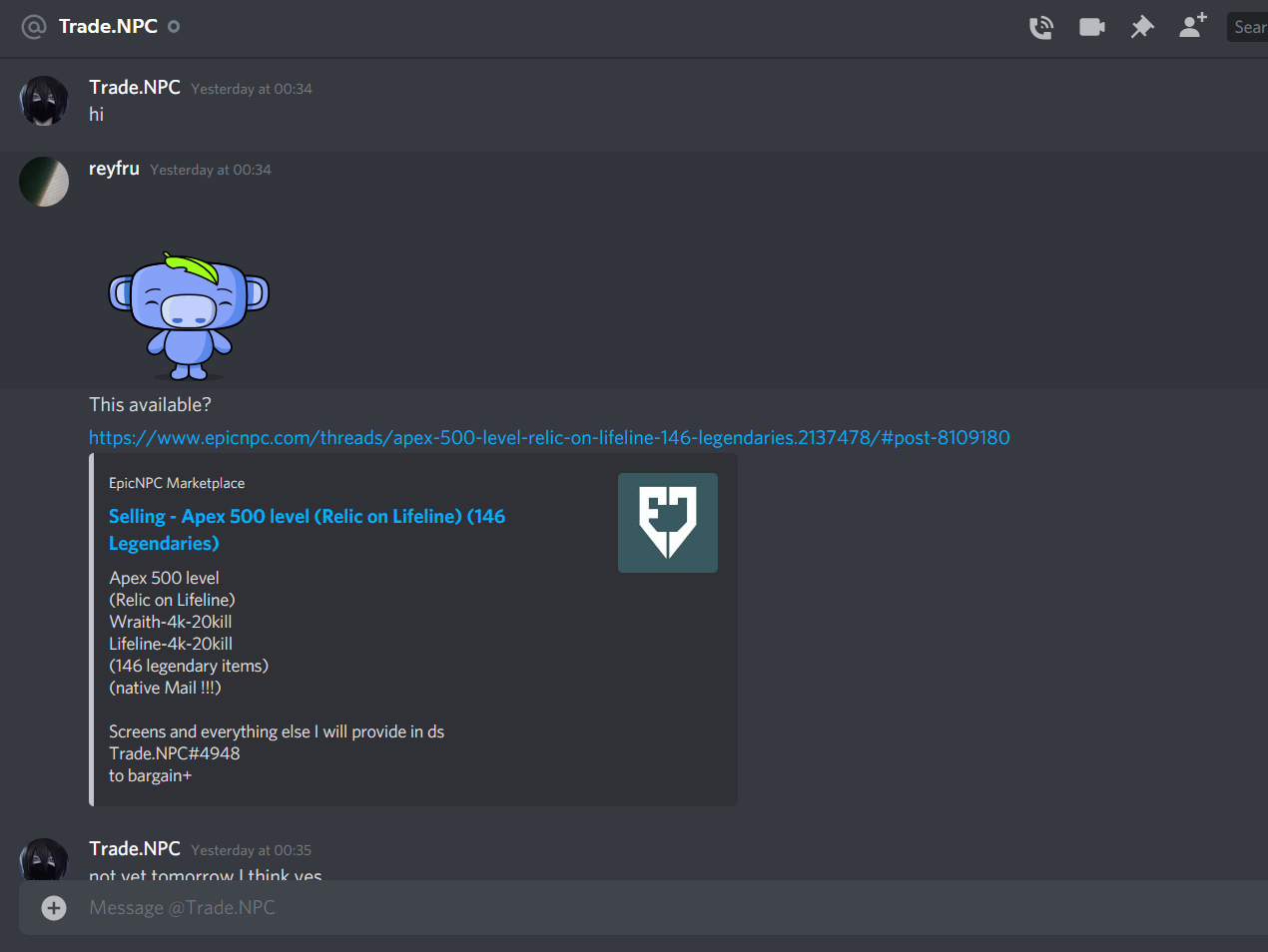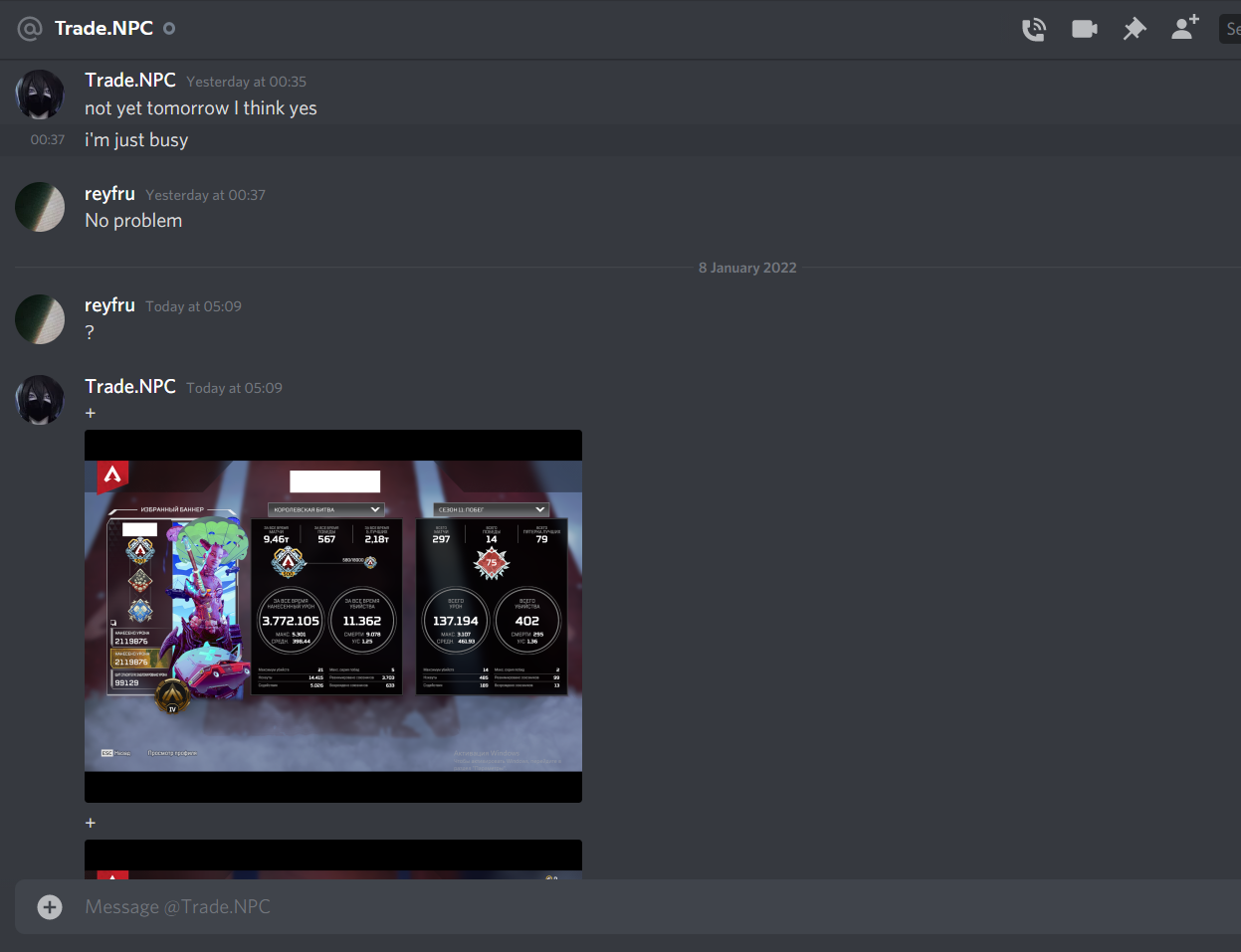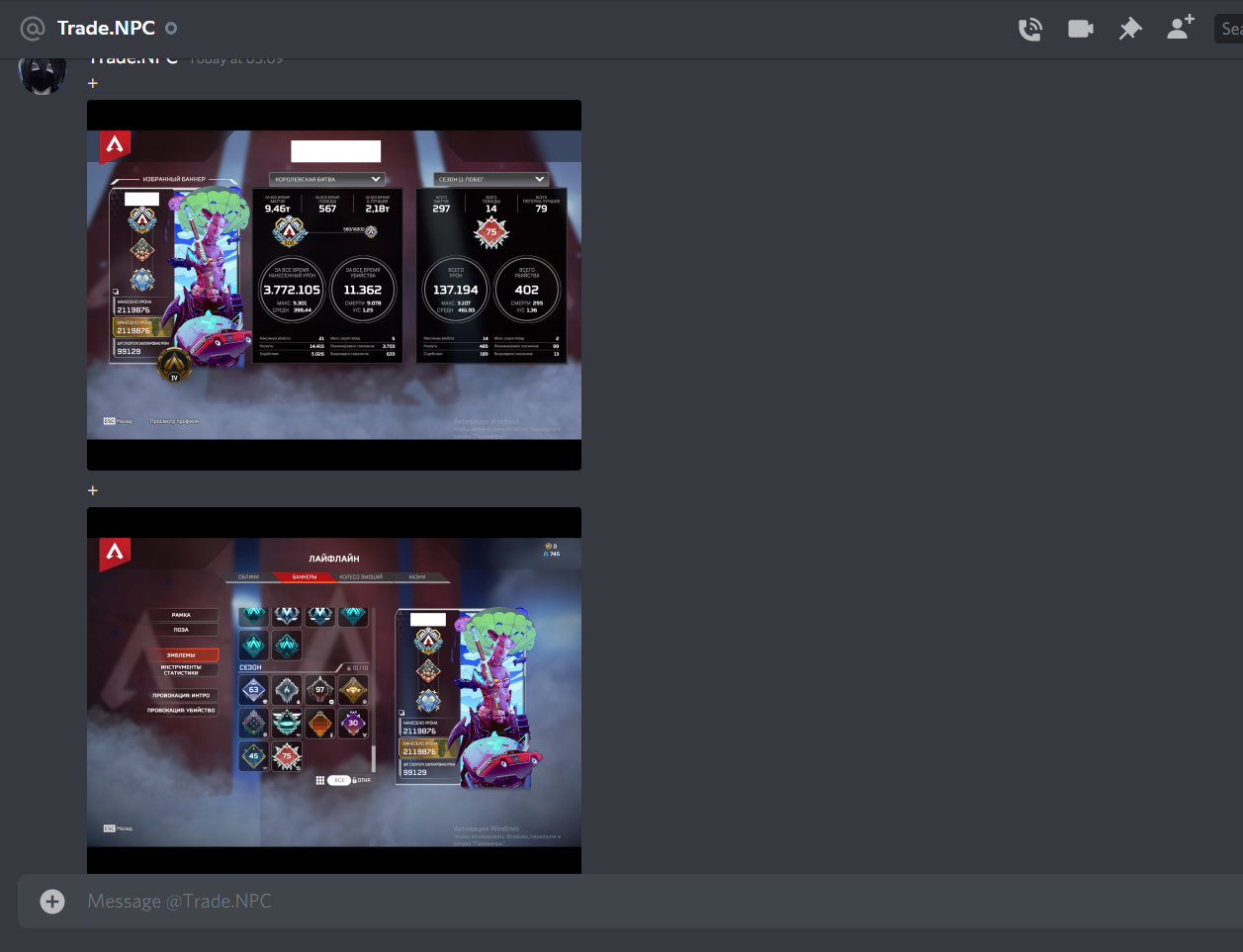 What I did first was to call him out under his "
gutard
" username which I suspected was an alias for "
Hecz23
"
Here's what I said on his first suspicious but very familiar looking post:
https://www.epicnpc.com/threads/apex-legends-level-485-family-heirloom-1.2137321/
- by gutard
https://www.epicnpc.com/threads/ape...-150-legendary-detailed-descriptions.2128979/
- by Hecz23
"

Lmao dude pls try harder

WARNING: Don't buy from this guy

He's probably the same trash who sold me this:

https://www.epicnpc.com/threads/ape...-150-legendary-detailed-descriptions.2128979/

I got scammed by him so to anyone else who is thinking about buying from him pls don't. He has made the same post on several other sites which i won't name here.

Proof: See the similarities below. He put an almost exact same description of the account here on the other post/account he made

Description of this post


Apex legends

(level 500)

Lifeline family heirloom 1)


Lifeline 20 kills 4k damage)


150 legendary items!!!


100$

DETAILED DESCRIPTION (on his other post- mind you this is a lifeline heirloom)
with mail!

(legendary +150) family heirloom


pass s 3-8
questions in a personal, according to the screenshots too.
Three editions:
95$
for questions xkross228 # 2633


https://ru.files.fm/f/cecjy5kep


the commission is paid by the buyer

It's the exact same account. If he shows the exact same account in that video link, he's the exact same scammer.

If he can prove otherwise, well go on if you want to take the risk but if he can't mods of epicnpc i want you to ban the guy."
Google translated -
This was when he lied by saying on the very same post : "I usually round numbers, you started whining, I wrote the truth"
This was very suspicious again to me because why advertise a level 485 account as a level 500 account?
So I dug a little deeper by going undercover with another discord account. I took note of his next few postings as well.
After I called him out the first time, he frantically changed the wordings of his post and created a new post, one without me telling him that he was a scammer.

His next post:
https://www.epicnpc.com/threads/apex-500-level-relic-on-lifeline-146-legendaries.2137478/
I immediately knew this was the account that he sold to me because it matched the stats of a screenshot that I took before he pulled the account back.
Here's the proof below
https://fex.net/ru/s/ma8move
a video that he himself posted on his post.
What I wrote on his post:
Hey, it's me again. The guy you scammed.

So are we really gonna ignore the fact that the account you sold me has the same stats?

Everyone below is a screenshot that I took after he sold me this same account.
Check out the stats for highest kills and highest damage:

21kills and 5301 damage done


Check out the screenshot he posted (the one after he took the account back) vs mine (the one I took before he took his account back)
So I was right. My god dude you suck at scamming for real.
Pls tell me the odds of the guy having the same highest kills and damage numbers on another account, I'll wait.
Because it's the same account lmao

Mods ban his ass.

Screenshot he posted

vs

Screenshot I took before he pulled his account back

View attachment 2588644View attachment 2588638 BUT WAIT THERE'S MORE
Check out his ranked badges.


5,6,7,8,9,10

all matched up.



Screenshot he posted

vs Screenshot I took before he pulled his account back


View attachment 2588651View attachment 2588648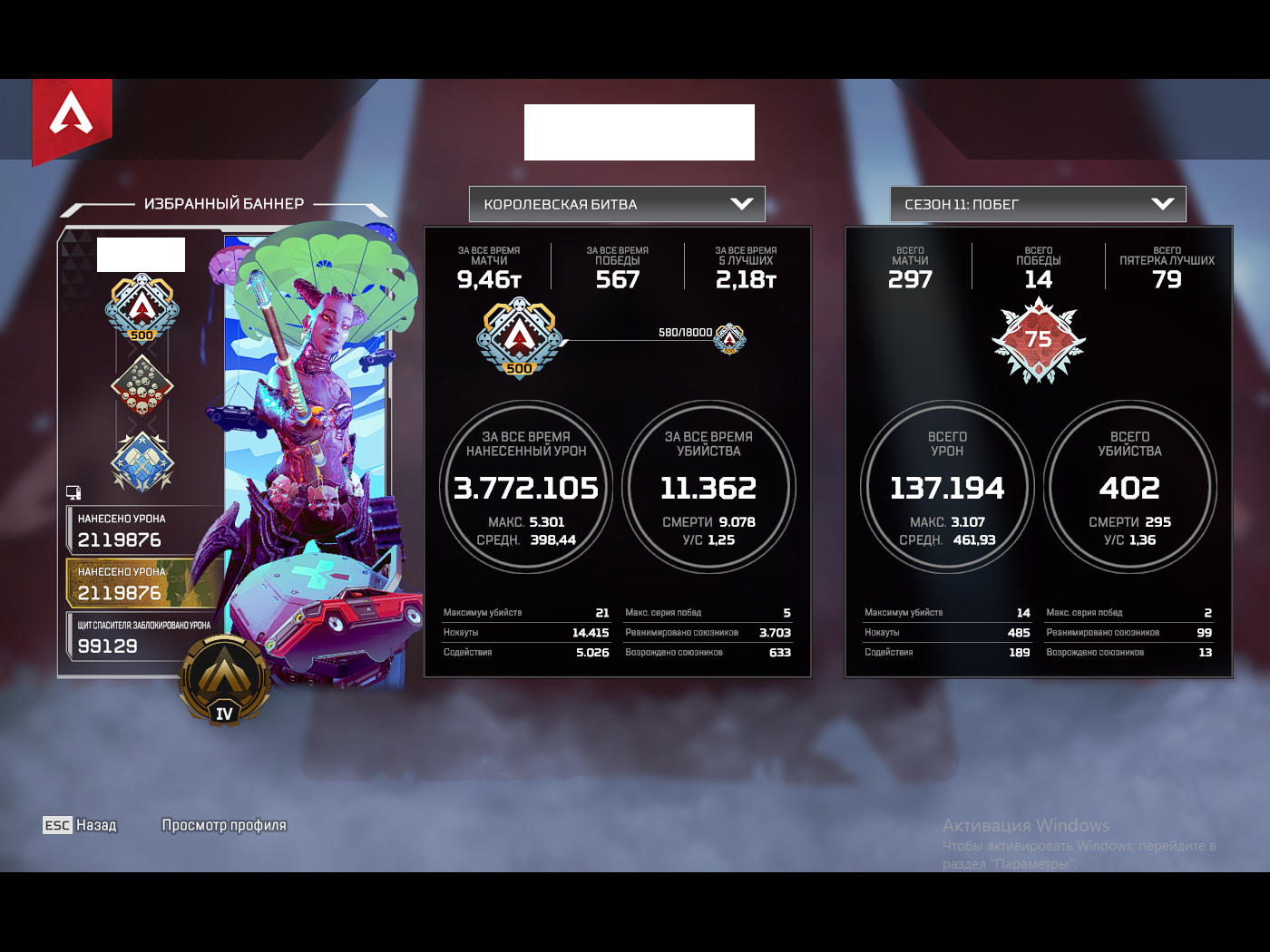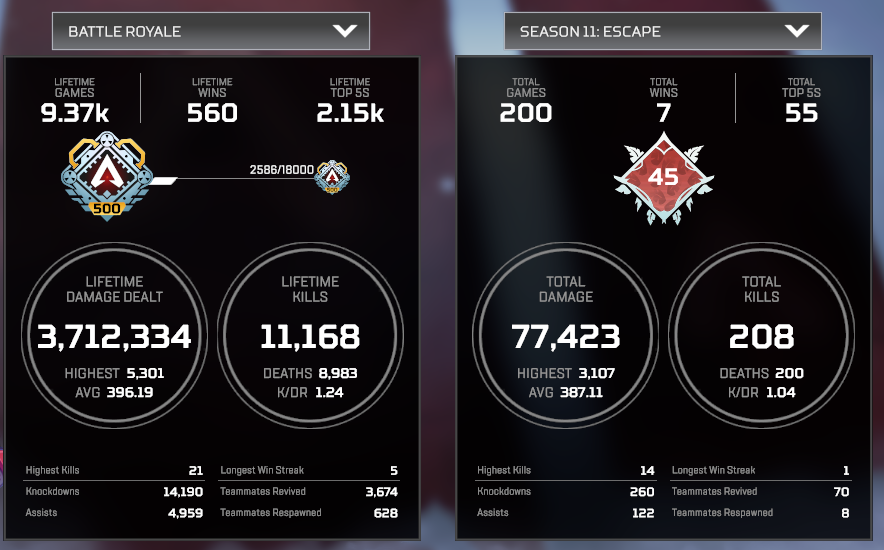 So as you can see the accounts match because it's near impossible to replicate the same amount of highest kills and
impossible to get that same exact number of highest damage done (5301) in the screenshots above.

His stats are also very close in numbers to what it would be like if he were to pull the account and use it again for some time.

Further proof that this is the same account is the badges acquired in both pics.

Even further proof is the video that he posted matches up all the skins:
https://fex.net/ru/s/ma8move
and
https://ru.files.fm/f/cecjy5kep
At the time of this post, the videos might have been taken down but I have downloaded them to show that it's the same account if you guys want to see them.

That's not all. He is also selling the same account on
funpay.ru
How I found this out was through another seller on
***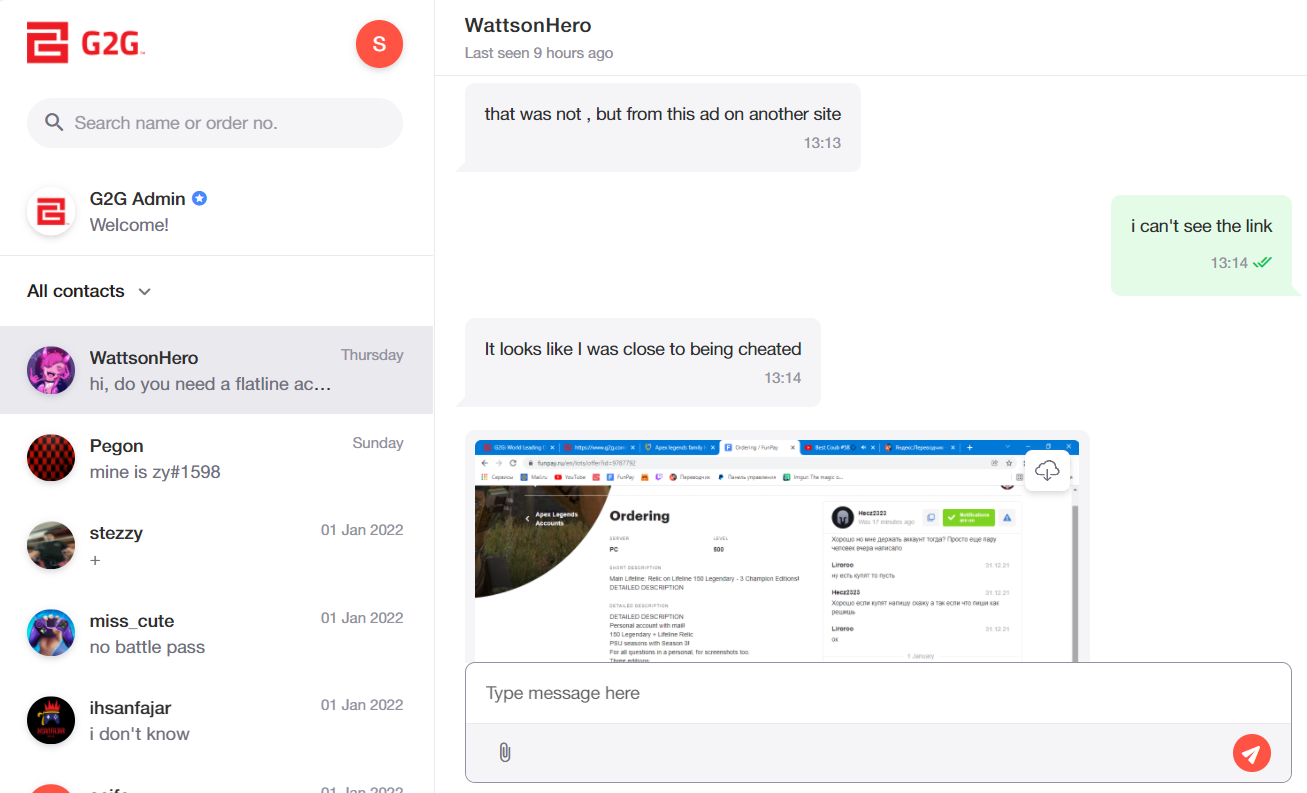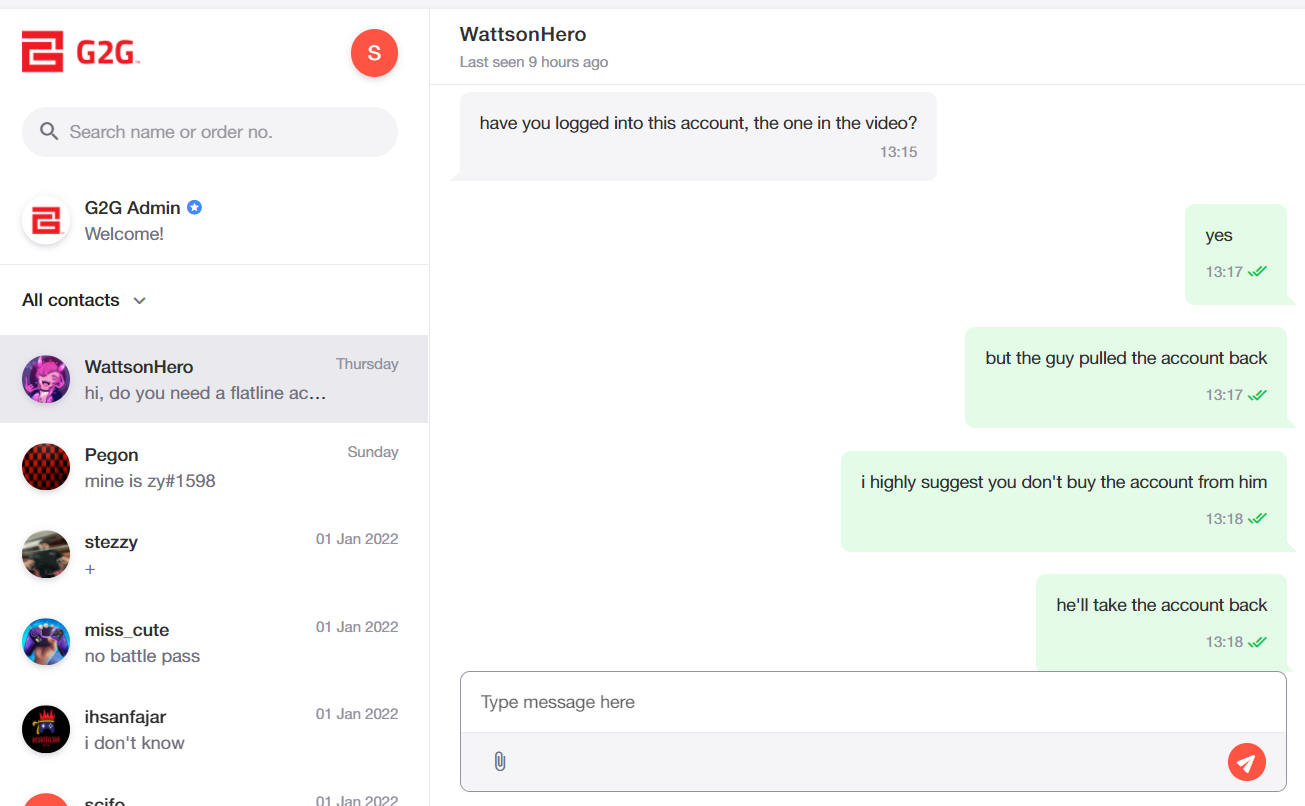 The most incriminating evidence that I have that it's the same guy who sold me the account is this
The screenshot that the guy from *** sent me: The user selling the account is
Hecz2323 which is similar to the Hecz23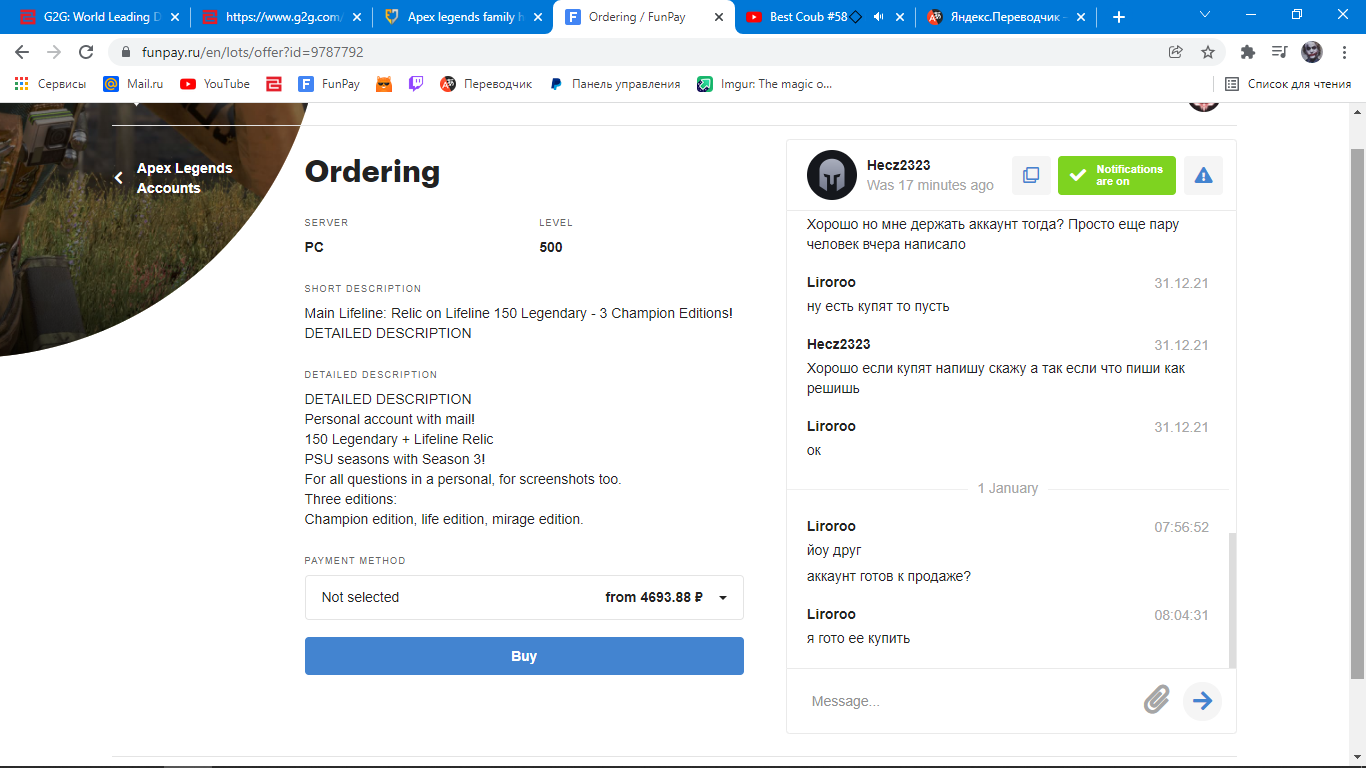 This is 100% proof that Hecz23 and gutard is the same guy selling the accounts.
Account Recalls
######################
Most account recalls have little proof. To get more evidence, please open a support ticket to attempt to recover the account BEFORE opening a dispute thread.
Did the seller say he's the original owner? (provide proof) The seller deleted some messages on discord but here's all the proof that I have.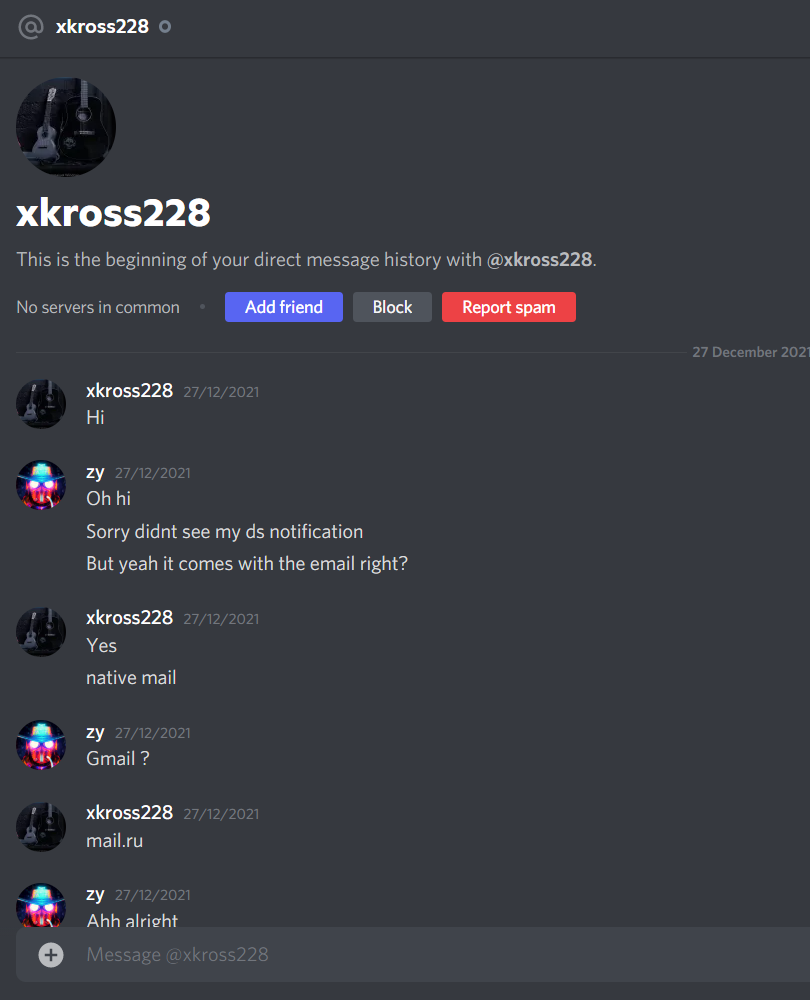 What account information did the seller provide you at the time of sale? (ID, SQA, etc) Origin email, password. Oge and password.
How long did you have the account before it was recalled? 2 days
If you have a support ticket about this recall, please post screenshots of it.
(you can use the HIDE tag so the images are not publicly available to everyone)
-------------------------------------------------------------------------------------------------------
If you are not involved, please do not post in the thread.
Here you can find information about our Dispute rules and how we investigate disputes.
https://www.epicnpc.com/threads/90442-Dispute-FORUM-RULES
Last edited: