EpicNPC Moderateur💎Trusted Seller💎💎100% Positive💎
Trusted Upgrade

Trusted usergroup. Verified members for over a year and 50+ positive feedback.
Professional Seller

Large seller, normally with their own website or business.
Verified Upgrade

Members who have verified their identity with us.
EpicMember Premium Upgrade

Upgraded member with 20+ positive feedbacks.
Local Moderator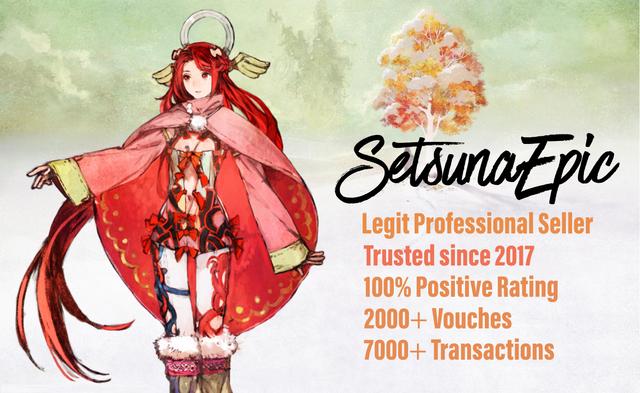 ​
Hello,
First time buyer and need a trusted service? Simply don't want to waste hundred to thousand of $ hoping to get your favorite Heroes?
I'm offering Super High End Moon Light Ken Account. If you looking for Whale Moon Light Ken,this is your chance.
All Payment via Paypal. If you don't have paypal, I will provide different payment methods so don't worry
More Contact info at the end of post with Lightning Respond!
All my Accounts are

Legit rolled/ No Interfering Game File. No Modded/Hacked/Duped Involved.

There are 2 types of High Risk Accounts. Scroll down to bottom to identify those 2.
There are many Hacked/Modded ML 5* that being sold and mark as Legit.
Example: ML Ken + Luna | ML Ken + 5* for $100 or even $70. Be aware when purchase one.
Please read carefully. I'M NOT MIDDLE MAN & I DON'T DO MIDDLE MAN. I WILL NEVER PM, ADD or MESSAGE YOU FIRST. MESSAGE ME PRIVATELY ON EPICNPC for VERIFICATION.
My only Discord: SetsunaEpic#6279
Need 1-4 Story 2-5 x 5* Heroes?

Visit here: https://www.epicnpc.com/threads/⭐-all-server-cheap-epic7-starter-story-1-4-pick-your-desire-1-4-x-5-hero⭐.1389703/
Need More Moon Light 4-5* Units?

Visit here: https://www.epicnpc.com/threads/🔥-gl-as-ml-accounts-5-ken-kise-vildred-ruele-rose-and-more-updated🔥.1390646/
_____________________
Mid Fresh Double 5* ML Ken + ML Tenebria + ML Coli + Diene - GLOBAL
10 x 5* Hero | Story Progression

10-10 Hard
[Global | ID2037] ML Ken + ML Tenebria + ML Coli + Diene + Aramintha + Charles + Lidica + Godly Artifact for Luna & Ken + 8200 Skystone

Price: $550
- 112K CP
- Abyss 51F

, Auto Wyvern 8 - Golem 5 - Banshee 7
- Arena Silver V
- Potential Skystone 15000. Current at 8200
More Info: The Opest Unit in game: ML Ken with Limited Strongest Meta Supporter: Diene. Have Waifu Moon Light: Tenebria available. Have newest Top Tier Hero: Charles, Lidica. A Lots of Resource available and can obtain more when playing the account. A Perfect account for Starter who want double ML 5* for either collecting purpose or Competitive.
------------------------
Updated ToS:
1. Account Selling/Trading/Transferring/Macro Rerolled may against Developers TOS but no issue so far 100% Safe with every other Mobile Games , 7000+ Successful Transactions. Please be aware when purchasing one!
2. There is no ban in Rerolled Accounts with Macro or Even use it. Interfering Game File like Hacked/Modded/Duped/Cheap Currency Purchase will get you banned & blame Macro.
3. If developer decided not allowing Rerolled Accounts, There is nothing I can do.
4. I will not responsible if sellers/buyers do shady practices but

I will do my best to keep both sell/buyers safe during & after transaction
All payment via paypal.
If you dont have paypal for some reasons, I will provide other payment.
I WILL NOT ACCEPT ANY KIND OF GAME GIFTCARD. SCAMMER MIGHT WANT GAME GIFTCARDS.
I will be available almost all the time 18 hours/day from 9 pm - 3 pm EST, 6 pm - 1 pm PSt. If you can't get in touch with me instantly on

Skype - live:moseiric

, Leave me a message on EpicNPC
Add me on:
Discord: SetsunaEpic#6279
setsunaepic

All Lower Case
Kik: SetsunaEpic
Skype: live:moseiric - SetsunaEpic
My real Skype should be live:moseiric. If you see 2 or more SetsunaEpic. Please ask both to verify on Epicnpc Forum. I'm a Trusted Seller. I'm happy to bring Joy to you gaming experience.
Last edited: