Member Since July 8, 2016
Total Completed Orders: 10
Total Feedback: 11
Selling my personal account.
This account was a recently new account (~1/16/2023) to get back into league, however I realized why I left so long ago and wish to sell the account as I do not have time for the game.
THIS ACCOUNT IS UNRANKED AND WAS ONLY USED AS A SKIN COLLECTORS ACCOUNT
- completely fresh honor, never done ranked, less than 15 public matches throughout entire account history
Selling for $2500 OBO
Contact me through epic.npc messenger.
As of 9/18/2023 - Has all Ultimate/Legendary/Epic Skins, just use the skin reroll function to acquire mythic's guaranteed. The 1513 picture is the latest screenshot I have.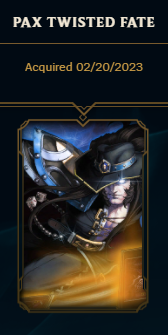 I did not play that much on this account and only wanted to utilize it as a collectors account.
All Ultimate Skins (Including all Seraphine Variants)
All Currently Available Mythic Skins (Not Including Specific Event Limited Skins, example: Prestige Faerie Court Katarina)
All Legendary Skins
All Currently Obtainable Epic Skins.
TFT Little Legends Include:
Chibi Project Zed
Chibi Star Guardian Lux
Chibi Panda Annie
Star Guardian Arena
House of the Golden Rabbit Mythic Arena Skin
The Account Comes With A Small Valorant Skin Account
Valorant Skin Information: