Rating: 100%
Member Since August 5, 2021
Total Feedback: 10
Unique Feedback: 9
So you have a Discord server and want to have all the perks of a level 3 Boosted Server?
Well you've come to the right place!
These boost will last for 1 months ( 30 Days)
Yes, They are only for 1 month due to discords current promotions.
​
---
What Do you get for having a Level 3 Boosted Discord server? Some pretty major things such as
Animated Server Banners
,
Vanity URL
,
100MB Upload limit for ALL users
+
So much more
!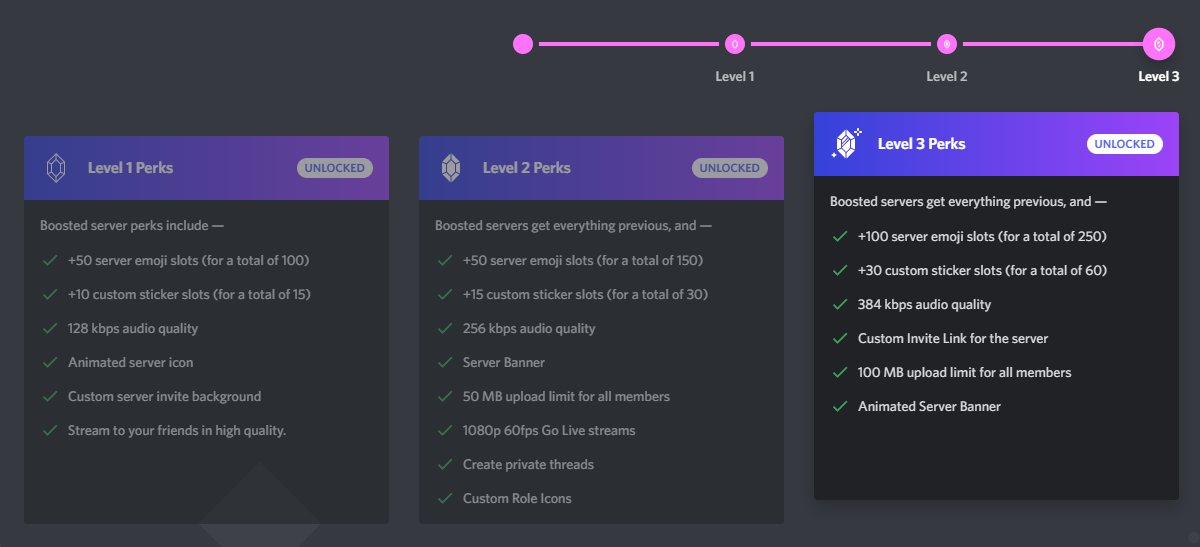 Pricing for my services are as followed:
𝟲 𝗕𝗼𝗼𝘀𝘁𝘀 - $6 𝟴 𝗕𝗼𝗼𝘀𝘁𝘀 - $7 𝟭𝟰 𝗕𝗼𝗼𝘀𝘁𝘀 - $9 𝟯𝟬 𝗕𝗼𝗼𝘀𝘁𝘀 - $18
All payments will be handed from my Sellix page!
If you are interested in getting your server to tier 3 Then don't wait any longer!
Click The Links To Buy!:
6 Boosts:
Click To Go To The Shop
8 Boosts:
Click To Go To The Shop
14 Boosts
: Click To Go To The Shop
30 Boosts:
Click To Go To The Shop
I Switched Shops, Here is the link to my feedback on the old one:
Click to see Feedback
Payment Methods Accepted:
Auto processed Payments:

PayPal, Credit / Debit Cards, Cashapp, Cryptos
Use the links above to pay with these
Manually
processed Payments:

Venmo
To pay with these, you need to contact me first.
​
---
So you are interested but have a few questions before you buy? Okay! Let's answer some of the most asked ones first.

Q.)
How long does it take?
A.)
Currently I have to manually
process
the orders myself. But assuming I am online, It will take a matter of seconds to get your boosts sent! Hopefully soon, Everything can be 100% automated!
Q.)
How Do you add the boost to my server?
A.)
It's really easy. I have a bot that all I have to do is use a command, and accounts will auto join your server, Boost it and sit there for 90 days. After that, You can kick them!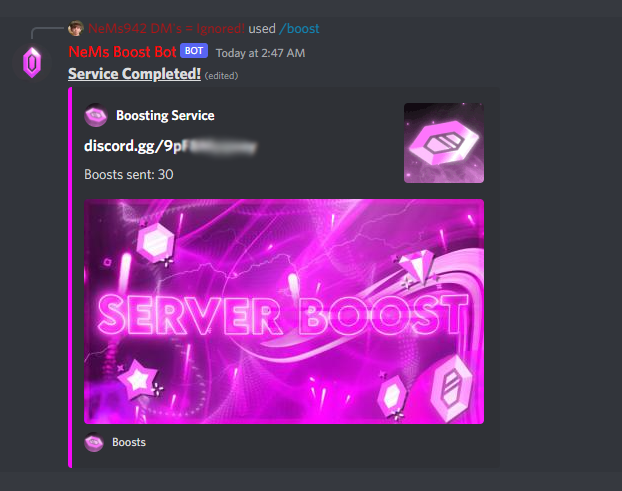 Q.)
Can you send the boost first before I pay you?
A.)
Sadly no. It can not work that way. I have to pay per boost sent. Once the boost are sent, There is no way for me to get them back.
Q.)
How can I trust you, How Do I know you wont scam me?
A.)
Buying anything online is a scary thing to do, But you don't have to worry with me! ALL my transactions are done through my Sellix Shop page! Everything I accept is accepted as a " Goods and service" So you have full buyer and I have full Seller protections! Also, I have sold over 1500 Items just on sellix alone! I have hundreds of 5 Star reviews on sellix and in my discord server! Feel free to have a look around!
​
---
Server Boosts Done:
​
Last edited: